Financial inclusion is a key policy initiative for the government and the Reserve Bank of India. Recently the finance minister is his Budget speech announced a launch of a programme on 15th August this year that will provide all households with banking services. Under the programme at least two bank accounts per household which are eligible for availing credit will be opened.
While this is a welcome step, we believe the biggest boost to financial inclusion will come from a push to higher employment in the formal sector, especially regular, salaried employment. We explore here the reasons behind this inference.
Household debt from commercial banks was nearly Rs 12 trillion as of end-March, 2014, including housing and educational loans. Most of it was accumulated in the last decade and nearly half was taken to buy houses.
On the face of it, this number appears big, but it is equal to just around 3 per cent of household consumption in the last 10 years. And, if we exclude housing loans since home purchases are not accounted in household consumption, only 1.6 per cent of household spending relied on borrowings from commercial banks.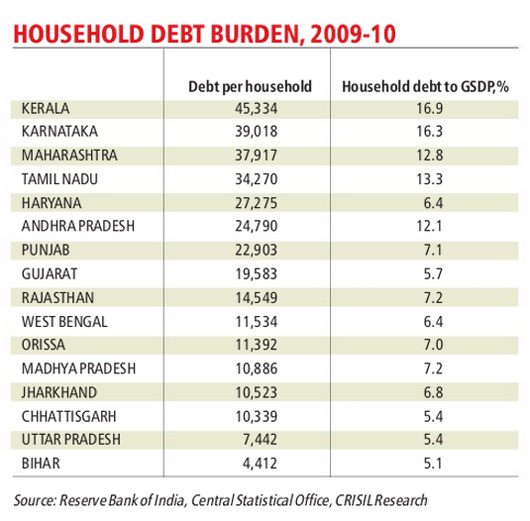 Clearly, the formal banking system has hardly penetrated Indian homes. Not surprisingly, there is far greater reliance on non-banks and informal sources for loans, which are more expensive and often exploitative.
Diced by states, data show there are significant variations in household debt from formal banking channels, which begs the question, what policies will raise access across the country?
We analysed household debt from the banking system on two parameters: debt per household, which measures debt in absolute terms, and debt as a share of state gross domestic product, which indicates debt as a proportion of income, and which by proxy shows ability to repay loans.
Irrespective of the gauge used, the top four states in terms of household debt burden are Kerala, Karnataka, Tamil Nadu and Maharashtra (per latest data available, which is for fiscal 2010). Haryana ranks fifth on absolute level of debt per household, but in terms of the debt to income ratio, Andhra Pradesh takes that slot.
The top three states have an average debt to income ratio of over 15 per cent, or three times the levels of Bihar, Chhattisgarh and UP. The average household in Kerala had Rs 45,000 debt in fiscal 2010 – with 55 per cent of it