Two miles down or more and darker than night, the Indian Ocean becomes a particularly challenging place for human searchers who are looking for the missing Malaysia Airlines MH370.
If the wreckage of a missing Malaysian airlines plane rests somewhere in the Indian Ocean's depths, then investigators will likely need to entrust the hunt at least partly to robot submarines and the scientists who deploy them to scan remote swaths of the seafloor.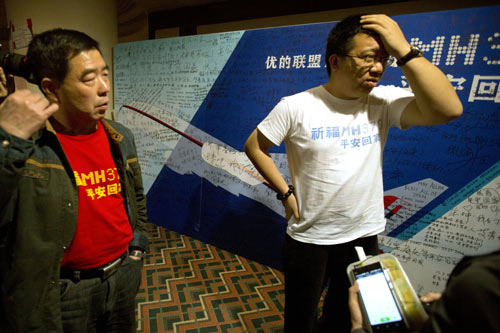 Steve Wang, a representative from the committee for relatives of Chinese passengers onboard the Malaysia Airlines MH370 talks to journalists after a closed door meeting with Malaysian officials via teleconference in Beijing, China. A Malaysian police investigation into the pilots of the missing Malaysian jet might turn up nothing, the force's chief said. while the head of the international search effort also acknowledged that an air hunt to spot wreckage on the surface of the southern Indian Ocean was not certain of success. The Chinese words on the t-shirts read 'Pray for MH370 safe return' (AP)
Such unmanned subs, called autonomous underwater vehicles or AUVs, played a critical role in locating the carcass of a lost Air France jet in 2011, two years after it crashed in the middle of the south Atlantic. The find allowed searchers to recover the black boxes that revealed the malfunctions behind the tragedy.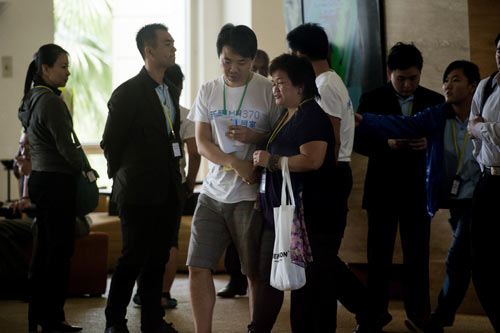 Relatives of the Chinese passengers onboard the missing Malaysia Airlines, MH370 embraces each other as they walk out after a close door meeting with the Malaysian officials at a hotel in Bangi, outskirts of Kuala Lumpur, Malaysia. Investigators are conducting a forensic examination of the final recorded conversation between ground control and the cockpit of Malaysia Airlines Flight 370 before it went missing three weeks ago, the Malaysian government said. (AP)
That search keyed off critical information: The search area for the Air France jet was much smaller than that for Malaysia Airlines Flight 370, and the first pieces of wreckage were recovered within days of the crash. Even then, it required two years and four deep water search missions before a team from the Woods Hole Oceanographic Institution, using an AUV equipped with side-scan sonar, located the jet about 12,800 feet (3,900 meters) underwater.
''Air France 447 is a bit different from Malaysia Airlines MH370 in that we had a few