more clues to work with,'' said Dave Gallo, who led the search team from Woods Hole, located on Massachusetts' Cape Cod. The independent research institution has offered its services to investigators but has not been asked to join the current search effort.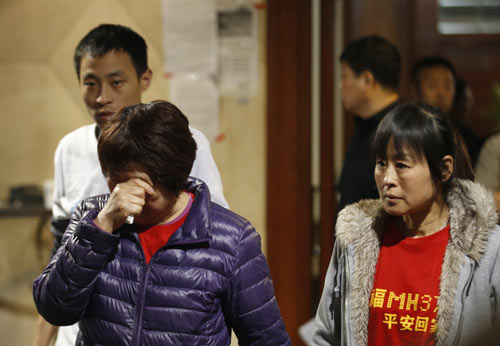 A relative of a passenger aboard Malaysia Airlines Flight MH370 cries after attending a video conference with the Malaysian government and Malaysia Airlines officials from Kuala Lumpur, at the Lido Hotel in Beijing. The search for the missing Malaysia Airlines Flight 370 resumed, even as senior Australian officials warned that bad weather and a lack of reliable information were seriously impeding efforts to locate the plane's wreckage.(Reuters)
Before unmanned subs can be sent down to look for the Malaysia Airlines MH370 jet, the search zone must be narrowed considerably. That depends on finding wreckage on the surface. Officials cautioned Wednesday that search planes, which have scoured the ocean for more than three weeks without finding any sign of the downed jet, aren't certain to find any wreckage and that investigators may not be able to determine the reason for its disappearance.
The size of the search area changes daily because of factors such as currents; on Wednesday it was 85,000 square miles (221,000 square kilometers).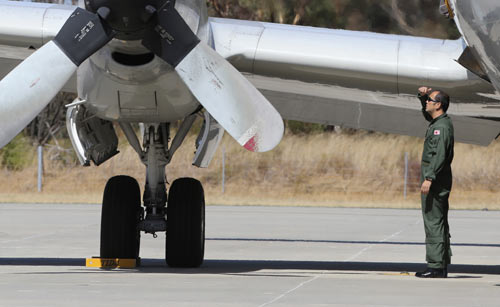 A pilot on a Japan Maritime Self-Defense Force P-3 Orion carries out pre-flight check at RAAF Base Peace in Perth, near Australia. Ten planes and nine ships resume the search for missing Malaysia Airlines Flight MH370 in the southern Indian Ocean.(AP)
But if investigators can zero in on an approximate crash location, they will likely turn to AUVs to begin the methodical task of tracking back and forth across miles of ocean floor in search of anomalies that might be wreckage.
''I like to think of it as mowing the lawn. You want to cover every bit of it,'' Gallo said.
''You need a little bit of luck and a lot of prayer that the oceans are going to cooperate, and then off you go.''
The unmanned subs used by the Woods Hole team were developed as tools to research and monitor relatively shallow coastal waters, measuring variables like salinity and temperature over wide areas for hours on end. But AUVs are increasingly harnessed to perform some of the most demanding underwater jobs.
The U.S. Navy uses