You may follow and look up to your MP for raising your concerns in Parliament and hope that your representative works towards the development of the constituency and formulating policies that aim for overall development and growth. However, your MP may not be the best example to follow when it comes to optimal deployment of your investment corpus across various financial instruments available in the country.
While the elected parliamentarians will be looked up to clear the new Sebi Bill that looks to provide greater powers to Sebi and thereby provide better protection to the investors as and when the next government is formed, only a handful of them have investments in mutual funds and listed securities. Most of them, however, seem to be finding greater comfort in bank deposits, gold, unlisted firms or even in giving their money as loans in a bid to earn return from their investment.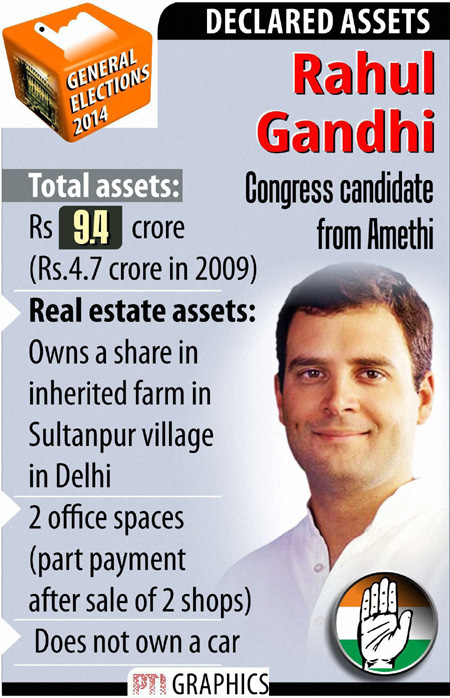 While the stock markets act as a barometer of sentiment for any significant political development, the politicians seem to be shying away from having an exposure in them. Since February 1, 2014 alone, the Sensex has jumped by more than 10 per cent to trade at new all time high.
The elected members may work towards framing policies for a deeper penetration of equities in the country and investments into mutual funds and pension funds, but only few seem to be walking the talk and leading by example. A look at the investment patterns of 65 prominent candidates from six states — Uttar Pradesh, Maharashtra, Punjab, Kerala, Gujarat and Haryana — shows the reluctance of the political leaders when it comes to direct equity investment or mutual fund investment.
Also see: Narendra Modi assets make him a car-less crorepati
The BJP's prime ministerial nominee Narendra Modi keeps a large chunk (almost 90 per cent) of his movable assets in the bank while L K Advani keeps 97 per cent of his movable assets in the bank. Both of them have no exposure in equities or mutual funds.
While Rahul Gandhi, Congress Vice President is yet to file his nomination for 2014 general elections from Amethi, his 2009 affidavit shows that even he does not have any investment in bonds, debentures or shares of a company.
Also see: Amar Singh assets
The trend
If bank deposits are the primary mode of money saving for these prospective