The aggregate results for the quarter ended September show that topline recovery for companies was not as robust as expected. The green shoots of recovery were seen in sectors like auto, metals and cement, mainly driven by the government stimulus in the form of reduction in excise duty and lowering of interest rates.
An analysis of 2,800 non-financial companies show that while net sales year on year have decreased by 9%, net profit increased by about 11%. This indicates that a secular demand growth is still a few quarters away and the current growth is a result of the government's stimulus packages. But for financial companies, the trend is just the opposite: net sales on a year on year basis increased by about 20% and net profit rose by 56%. The benefit of low-commodity prices, cost-cutting measures and operational efficiency, which companies had undertaken in the last two quarters, continued to play out during the quarter ended September, too.
Sarabjit Kour Nangra, vice-president, research, Angel Broking expects secular demand growth to emerge during the second half of FY 2010. "While the initial leg of the growth was a result of the stimulus packages, the overall growth is likely to intensify, encompassing more segments of the economy as suggested by improvement in the various economic indicators."
Taking a broader perspective, Mohan K Swamy, head of equity research at RBS, says that the government stimulus in terms of excise reduction and rural initiatives like NAREGA has fast tracked the recovery. "The inherent under penetration in India in most sectors and the latent demand potential are also responsible for the recovery. This recovery has to be nurtured more, to make it self-sustaining," underlines Swamy.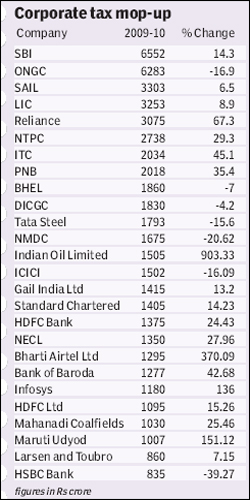 Sector-wise, automobiles reported stellar performance on the back of price hikes, full realisation of lower commodity prices and lower interest rates. An analysis of 18 companies shows profit after tax grew by 64% as compared to the same quarter last year and sequentially too, the sector reported 29% growth. Hero Honda, the market leader in two-wheelers, reported almost 95% increase in net profit and 26.66% increase in net sales.
Interestingly, the current signs of revival in the economy are pointing to an improvement in the movement of freight, which will augur well for sales of commercial vehicles, where sales growth is slow as compared to sales of passenger vehicles. However, going forward, analysts expect that capacity constraints