In 2012-13, when India's GDP growth slipped to its lowest in a decade at 5 per cent from 6.2 per cent in the previous fiscal, a majority of the states not only bucked the trend and reported a higher growth rate compared to their own pace in the previous year but also a rate higher than the one for the country.
While 14 of 26 states and union territories for which data is available — including Karnataka, Orissa, Maharashtra, West Bengal, Bihar and Chhattisgarh — reported higher year-on-year GSDP (gross state domestic product) growth rates in 2012-13, an overwhelming 22 of the 26 grew faster than the national rate of 5 per cent, according to advance estimates from the state governments compiled by the Planning Commission. GSDP growth data for key states like Gujarat, Rajasthan and Kerala are yet to be made available.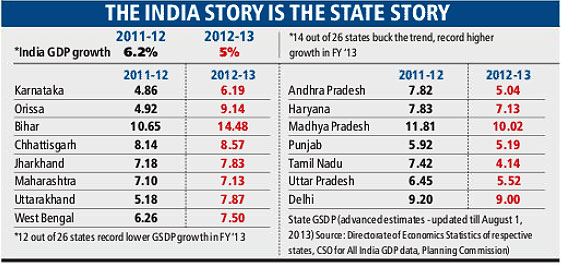 While GDP reflects the output at the all-India level, the GSDP represents output in 35 regions comprising 28 states, six union territories and the NCT of Delhi. The sharp slowdown of 2012-13, when viewed from state level estimates, appears to offer a different picture altogether, with big states like Karnataka, Maharashtra and West Bengal joining the list of traditionally backward states like Bihar, Jharkhand and Chhattisgarh that have been clocking high growth recently. Orissa nearly doubled its GSDP growth rate in 2012-13.
States that recorded lower growth in 2012-13 include two with just a marginal dip in GSDP growth, even though the standalone growth estimates are still remarkably high. Haryana's GSDP growth is pegged at 7.13 per cent while Madhya Pradesh grew by a scorching 10 per cent during the year, compared to 11.81 per cent in the previous year.
While GSDP growth numbers used here are based on advance estimates and there is the possibility of significant revision in agricultural growth in the final estimates, which could raise the advance estimates of the CSO on GDP numbers.
The advance estimates of India's GDP put out by the CSO have not captured the small-scale industries data. The inclusion of the small-scale industry output numbers could also provide an upward bias to GDP growth.
Ideally, according to analysts, the GSDP data series for individual states should be fully consistent with the national accounts estimates of GDP, so that the disaggregated picture of economic performance at the state level corresponds with the picture for the