Gold retreated from its all-time record high at the domestic bullion market on Friday and sinked to Rs 31,520 per 10 gram on hectic speculative sell-off from stockists and investors amid bearish global cues, as well as recovery in rupee.
Silver also dipped to revisit Rs 55,000-per kg level on frantic off-loading from speculators.
The precious metals commenced trading following overnight pause on account of local festival holiday and retreated on massive sell-off with gold featuring 5 per cent fall and silver by 7 per cent over it previous surge.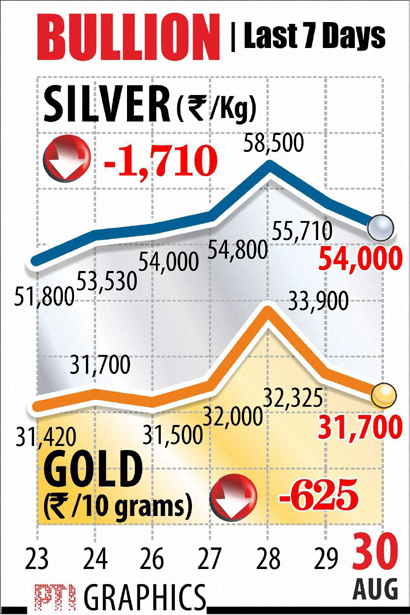 The local currency appreciated smartly to 65.70 per dollar on intervention from Apex Bank and rally in equities, which led to heavy unwinding in gold from investors and speculators.
Standard gold of 99.5 per cent purity slid by Rs 1,745 to end at Rs 31,520 per 10 gm from Wednesday's closing level of Rs 33,265.
Pure gold of 99.9 per cent purity slumped by Rs 1,750 to conclude at Rs 31,680 per 10 gm from Rs 33,430.
Silver ready (.999 fineness) tumbled by a huge Rs 4,445 to finish at Rs 55,025 per kg as against Rs 56,670 previously.
"Now, the yellow metal is looming under heavy speculation on rupee volatility as well as government curbs," dealers said.
Overseas, gold fell below USD 1,400 on weighed by less likelihood of US military strike on Syria and strong US data rekindled hopes of Federal Reserve's stimulus tapering.
Spot gold was bid lower at US 1,392.14 an ounce in early trade, while silver was bid down at USD 23.66 an ounce.