With the Reserve Bank of India (RBI) having relaxed lending norms for banks, you can now get a loan of more than R1 lakh by pledging your gold ornaments and jewellery.
As per the new norms, each bank, as per the board-approved policy, can decide on the loan amount ceiling against the pledge of gold jewellery and ornaments. The duration of the loan, however, can't be more than 12 months from the date of the sanction.
Banks will have to maintain a loan-to-value (LTV) ratio of 75% throughout the loan tenure. For valuation of gold, they will have to use the historical spot gold price data given by the Forward Markets Commission, in addition to the data on prices from the Indian Bullion and Jewellers Association.
The RBI's recent circular follows representation from banks, requesting the regulator to increase the ceiling and review other conditions applicable for non-agricultural loans pledged against gold ornaments and jewellery. Analysts say banks will now increase their ceiling for loan against gold collateral for non-agricultural end-usage.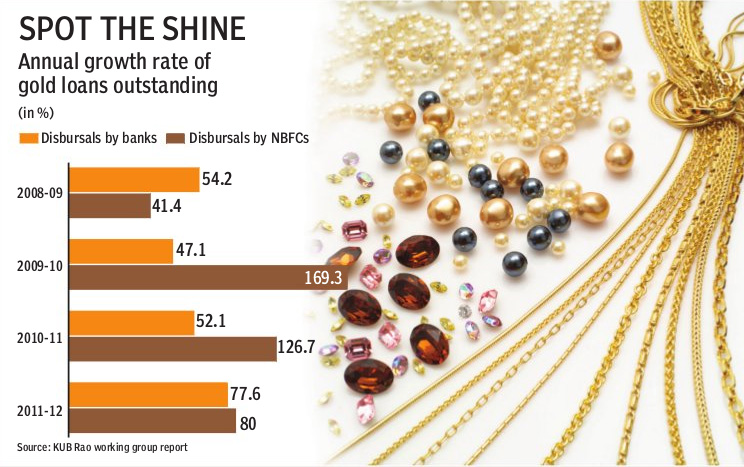 The RBI, in an earlier circular issued on December 30, 2013, had fixed the maximum amount of loan that could be sanctioned against pledge of gold ornaments and jewellery for non-agricultural purposes at R1 lakh at any point of time. It also said that the period of the loan should not exceed 12 months from the date of sanction. The interest would be charged to the account on a monthly basis, but would become due for payment, along with the principal, only at the maturity, it had said. The RBI also decided to permit bullet repayment of loans.
A month later, on January 20, 2014, RBI issued another circular where it fixed an LTV ratio of not more than 75% for banks lending against gold jewellery. Also, to standardise the valuation process, it decided that gold jewellery accepted as security or collateral would have to be valued at the average of the closing price of 22-carat gold for the preceding 30 days as quoted by the Indian Bullion and Jewellers Association. If the gold is of below-22-carat purity, the bank would need to convert the collateral into 22 carat and make an exact valuation.
For non-banking financial companies (NBFCs) too, the RBI, in January, raised the LTV ratio to up to 75% from 60%, as per the recommendation of the KUB Rao