Gold prices fell by Rs 115 to Rs 29,235 per ten gram today on stockists selling against sluggish demand amid weak global cues.
Silver also declined by Rs 380 to Rs 43,550 per kg on reduced offtake.
Traders said stockists selling against sluggish demand at prevailing higher levels amid weak global trend mainly kept pressure on precious metals.
Gold in Singapore, which normally sets price trend on the domestic front, fell by 0.2 per cent, to USD 1,284.27 an ounce.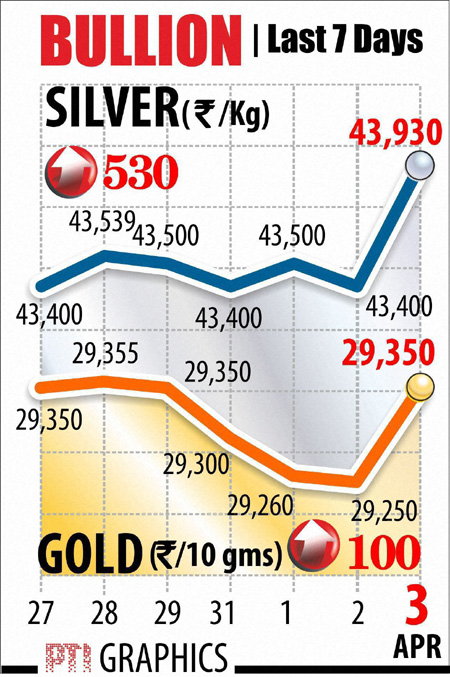 Gold and silver prices. Snapping two-session downtrend, gold prices recovered smartly today on fresh bouts of buying from stockists and retail investors amid firm global trend.(PTI)
On the domestic front, gold of 99.9 and 99.5 per cent purity fell by Rs 115 each to Rs 29,235 and Rs 29,035 per ten gram respectively. It had gained Rs 100 yesterday. Sovereign remained steady at Rs 24,900 per piece of eight gram.
Silver ready dropped by Rs 380 to Rs 43,550 per kg and weekly-based delivery by Rs 355 to Rs 42,975 per kg, after gaining Rs 530 in the previous session.
Silver coins held steady at Rs 81,000 for buying and Rs 82,000 for selling of 100 pieces.