Gold prices extended losses at domestic bullion market on sustained selling by stockists and traders amid lower demand at the existing level as well as strengthening rupee valuations.
Silver also fell to retrace Rs 55,000 per kg level.
The domestic currency today appreciated smartly to 66.01 per dollar on slew of measures taken by new RBI Governor Raghuram Rajan yesterday along with surge in local equities.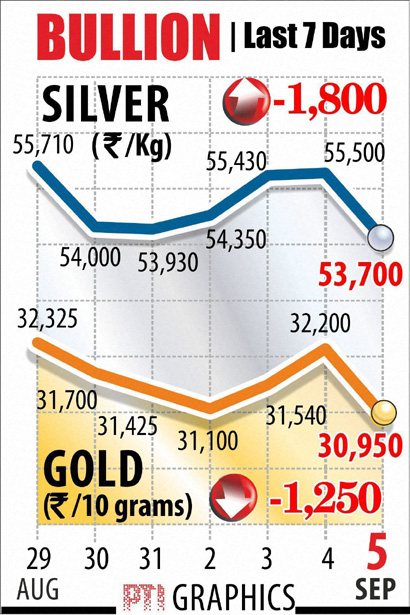 Standard gold of 99.5 per cent purity fell by Rs 380 to end at Rs 31,560 per 10 gm from Wednesday's closing level of Rs 31,940.
Pure gold of 99.9 per cent purity slid by Rs 375 to finish at Rs 31,725 from Rs 32,100.
Silver ready (.999 fineness) dropped by Rs 515 to conclude at Rs 55,800 per kg from Rs 56,315 previously.
On the global front, gold moved up as dollar eased against basket currencies ahead of key US jobs data which provide direction over US Federal Reserve monetary policy.
In London, spot gold was bid higher at USD 1,395.10 an ounce in early trade, while silver was bid up at USD 23.53 an ounce.