Gold prices maintained sluggish momentum at the domestic bullion market today on subdued stockists and investors off-take as well as mute local buying interest in the backdrop of weak global trend.
Silver also fell on heavy unwinding from speculators following lack of industrial support.
Standard gold (99.5 purity) declined by Rs 240 to close at Rs 30,425 per 10 grams from last weekend's level of Rs 30,665.
Pure gold (99.9 purity) also fell by a similar margin to end at Rs 30,575 per 10 grams from Rs 30,815 previously.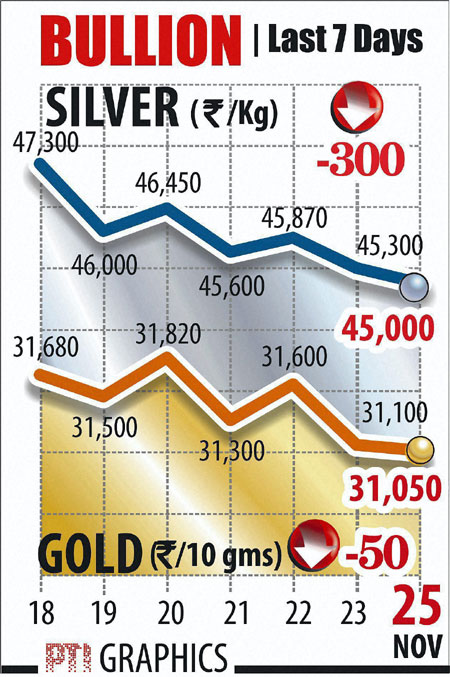 Silver ready (.999 fineness) dipped by Rs 335 to conclude at Rs 45,605 per kg as against last Saturday's close of Rs 45,940.
In the overseas, gold slid around 1 per cent after Iran and six world powers sealed a deal to curb its nuclear programme, which eased political tensions, drove oil prices lower and lifted the dollar and equities. It also weighed down by fears of an early end to US stimulus measures and biggest drop in three weeks.
Spot gold fell to USD 1,227.54 an ounce in early trade and Silver also dipped at USD 19.72 an ounce.