Gold steadied on Tuesday after a six-session losing streak, helped by comments from Federal Reserve officials that suggested the US central bank would maintain its ultra-loose monetary policy for some time yet. Spot gold was steady at $1,314.42 an ounce at 0729 GMT after hitting a session high of $1,317.96 earlier.
The metal has lost about a fifth of its value this year on fears that the Fed would start to wind down its bullion-friendly policy plus worries about outflows from gold-backed exchange-traded funds.
The metal is now trading in a narrow range and investors were refraining from taking big positions ahead of a crucial U.S. jobs report later this week.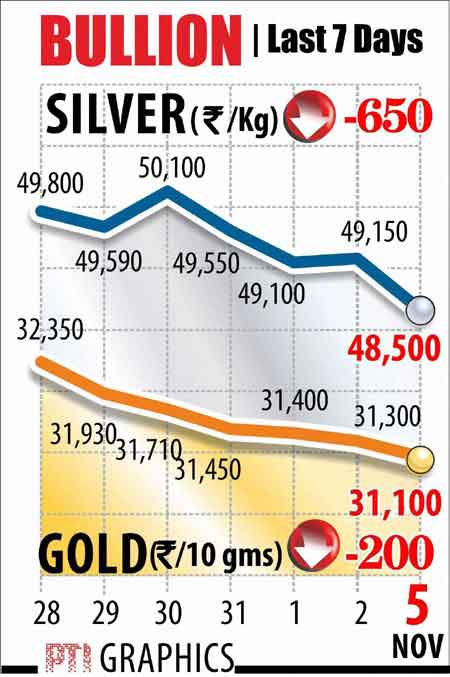 The Fed said last month that it would stick with its monthly $85 billion bond purchases until the economy improved further and budget issues in Washington were resolved, raising expectations that the tapering would not begin until next year, although some still believe it may start this year. One senior central banker said on Monday the Fed should scale back its asset purchases only when the U.S. economy shows clearer signs of improvement and even then it should act slowly, while two others stressed there was no need to rush. "The Fed is less likely to cut back stimulus this year due to the recent government shutdown and lacklustre economic data," said Chen Min, a precious metals analyst at Jinrui Futures in Shenzhen.
"We hold that the Fed will start scaling back in the first quarter of next year and therefore remain bearish on gold prices."
A strong U.S. nonfarm payrolls report on Friday could rekindle fears that the Fed might start "tapering" its stimulus buying from December, which would put downward pressure on gold prices.
Gold traders were also watching the euro on Tuesday. The European currency reversed early gains to trade near a seven-week low as investors were cautious ahead of a European Central Bank policy meeting this week.
A drop in the euro makes it more expensive for holders to buy dollar-denominated gold.
A sharp slowdown in inflation has raised the risk the ECB may be forced to cut interest rates or at least lay the groundwork for a move, which could depress the euro.
"Should the euro weakness resume, bullion prices may fall back onto the defensive and test $1,300 per ounce," HSBC analysts said in a note.
However, a fall below $1,300 could provide a