The government today increased import duty on gold, silver and platinum to 10 per cent with a view to arrest the declining value of Indian rupee and contain the fiscal deficit to 3.7 per cent of the GDP.
"... customs duty on standard gold and platinum (increased) from 8 per cent to 10 per cent and on silver from 6 per cent to 10 per cent", said a notification issued by the Finance Ministry.
Govt raises gold import duty, India Inc raises smuggling alarm
The hike in duty follows the announcement made by Finance Minister P Chidambaram yesterday that government will take steps to compress demand of precious metals with a view to check the sliding rupee value and contain Current Account Deficit (CAD) to 3.7 per cent in 2013-14.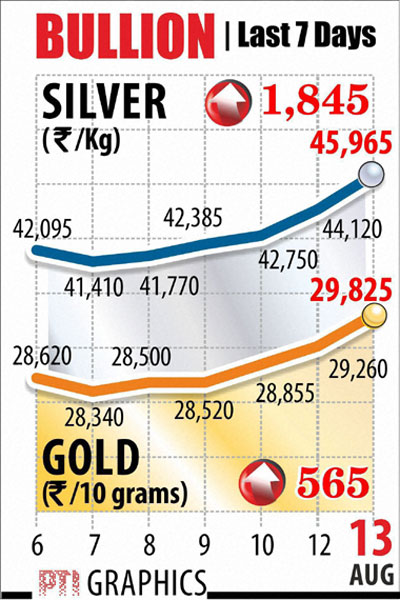 Current account deficit (CAD) touched all all time high of 4.8 per cent of the GDP in 2012-13.
The government has also raised the duty on gold ore/ concentrates/dore bars and silver dore bars ranging from 7 per cent to 10 per cent.
"The revenue implications of these changes are estimated at Rs 4,830 crore for the remaining part of the financial year at current levels of import", the Ministry said.
Government has also raised excise duty on refined gold bar produced from gold ore/ concentrate and gold/silver dore bars or during copper smelting from 7 per cent to 9 per cent.
The notification further said that excise duty on silver manufactured from silver ore or concentrates, silver/gold dore bars or during copper, zinc or led smelting from 4 per cent to 8 per cent.
These notifications were tabled in Parliament today.
The gold import in the current fiscal, according to official estimates, was likely to come down to 850 tonnes from 950 tonnes in 2012-13.
As regards the non-essential items, an official said that the Ministry was working on it and notifications would be made in the due course.
The rupee, on account of various domestic and global factors, had slipped to 61.80 to a dollar earlier in the month. It was trading at around 61 to a dollar.
India hikes gold, silver import duty to 10 pct
(Reuters) Import duty has been hiked on refined gold bars for a third time in eight months to 10 percent from the earlier 8 percent, the finance ministry said in a statement on Tuesday.
The government also raised the import duty on silver to 10 percent from the earlier 6 percent, and the factory gate duty on gold bars to 9 percent from 7 percent.
China H1 gold consumption set to surpass India
At the current level of imports, the government expects a revenue of 48.30 billion rupees from the duty hikes for the rest of the financial year ending March 31, 2014.
India, the world's biggest buyer of gold, has been trying to curb gold imports which is the second biggest imported item after crude oil.
India's gold guzzling still high, spurs neighbours to act
On July 22, the Reserve Bank of India (RBI) required a fifth of all gold imports to be used for export, usually in the form of jewellery.
In a written reply to a question in Rajya Sabha today, Minister of State for Finance J D Seelam said there has been apprehension that a duty hike could lead to an increase in smuggling of gold or gold jewellery.
He said customs and other formulations have been alerted to keep a vigil against smuggling. During April-July, the total quantity of 294 kgs of gold valued at Rs 75 crore have been seized by customs department.
Giving details of gold smuggling cases detected by customs department, Seelam said in 2012-13 there were 879 cases involving gold value of Rs 104 crore. In 2011-12, 506 cases were detected and value of goods seized was Rs 49 crore.