HDFC Mutual Fund has emerged the most profitable fund house in 2013 (FY13), pipping Reliance Mutual Fund whose net profit slipped considerably during the fiscal. Reliance Mutual Fund was the most profitable fund house in both FY12 and FY11, while HDFC Mutual Fund was the most profitable in FY10.
Mutual Funds: Top Profit-making Schemes
In the profit comparison, HDFC MF posted a net profit of Rs 319 crore in FY13, up 18.6%, over Rs 269 crore registered in the previous year. Reliance Mutual Fund's net profit, on the other hand, slipped 28.5% to Rs 197.53 crore in FY13 from Rs 276.1 crore last year, according to figures recently updated on the asset management company's (AMC's) website.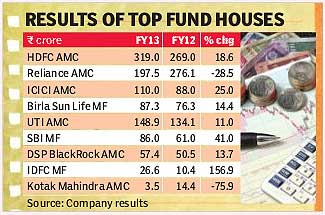 However, the dip in net profit was largely due to the contribution of exceptional items worth Rs 55.64 crore "pertaining to provision for diminution of investments in subsidiaries", as per the AMC's annual report. According to Reliance Mutual Fund, this is a non-cash item which had been in the books for the last three-four years but was written off in FY13.
Specific to domestic operations, net profit stood at Rs 253.17 crore — a 8.3% decline over the last year. Total revenues, however, rose about 11% to Rs 712 crore from Rs 642 crore in FY12 even as expenses rose 31% to Rs 399 crore.
In the last six fiscals now, both HDFC Mutual Fund and Reliance Mutual Fund have surpassed each other in profitability three times each. Between FY08 and FY12, both the fund houses had been running neck and neck so to speak, with the net profit gap between the two ranging from Rs 3.9 crore to Rs 21.5 crore.
Kotak Mutual Fund is the other fund house in among the top 10 that has seen a substantial dip in its profitability in FY13, albeit on a lower base. The AMC's net profit declined 76% to Rs 3.46 crore from Rs 14.35 crore in the year-ago period. The fund house's revenue growth remained flat at 2.44% even as expenses grew by more than 21% owing to higher distribution and selling costs.
IDFC Mutual Fund and SBI Mutual Fund posted the highest percentage growth in net profits, clocking growth of 156% and 41%, respectively. IDFC Mutual Fund was among the few fund houses which saw a growth in both its debt and equity