The petroleum ministry has proposed that higher gas price as per the Rangarajan formula could be allowed only for incremental production over and above the current levels, as an alternative to applying the formula unconditionally from July 1. Restricting the higher price to additional output, the ministry feels, would incentivise production while also protecting the interests of consuming industries like power and fertilisers.
The ministry in a draft note for the consideration of the Cabinet Committee on Economic Affairs (CCEA) wrote: "Average gas production for the year 2013-14 would be taken as the base and production over and above this current level would be eligible for the higher gas price. This principle for pricing of gas will be applicable to all natural gas produced domestically, irrespective of the source, whether conventional, shale, CBM, etc." The ministry has also said the gas price would be effective prospectively from the day of implementation (producers wanted it to be effective from April 1, 2014).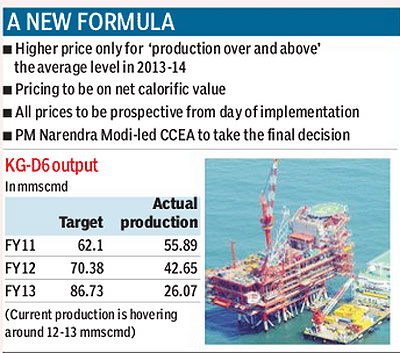 The new move could be a dampener for ONGC, which produces 60 million metric standard cubic metres per day (mmscmd) of gas, more than two-thirds of the country's total production of the fuel, as there are little chances that the PSU would dramatically increase its production. The same applies to Oil India, another PSU gas producer.
As for Reliance Industries and its foreign partners BP of the UK and Canada's Niko Resources, which are currently engaged in arbitration with the government over alleged suppression of gas output at the KG-D6 block, the ministry has proposed that till the issue is resolved, for the shortfall quantity of gas as per the approved addendum to initial development plan (AIDP), the difference in the revenue realised due to revised gas price could be deposited in an escrow account of a nationalised bank. The account, the ministry said, would be operated by Directorate General of Hydrocarbons (DGH) and the bank can invest the funds to earn interest.
RIL, it may be recalled, was asked to submit a bank guarantee for the revenue amounting to the difference between the committed and actual production, in order to be able to sell gas at revised prices.
A higher gas price for the entire current production would mean ONGC's annual revenues would rise by R12,000 crore and OIL's by R1,500 crore. For RIL and its partners, at the current KG-D6 output of 12-13 mmscmd,