Potential recovery in broader markets can cap premium on defensive stocks
Key takeaways from management interaction
No major change in demand scenario barring moderation in some discretionary segments: HUL has not seen any material change in consumer demand for its categories. Despite concerns around monsoon (which later has improved), demand remains healthy barring some moderation in discretionary part of the foods and personal care categories. Growth moderation in processed foods and premium personal care (e.g. skin lightening) is owing to prevailing high consumer price inflation and uncertain macroeconomic environment.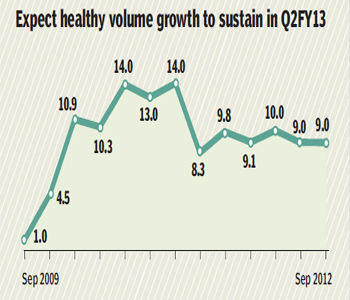 Secular, long-term potential remains unchanged. Low per capita consumption and under-penetration coupled with favourable demographics will sustain long-term growth.
Soaps & Detergents: Growth to be price led; limited room for margin expansion: Expect growth in the soaps & detergents segment to be price driven. The category has not seen material pricing action during the quarter; thus, pricing growth is an impact of price hikes taken during previous quarters. Impact of price hikes will start fading once the price hikes start "anniversarising", going forward.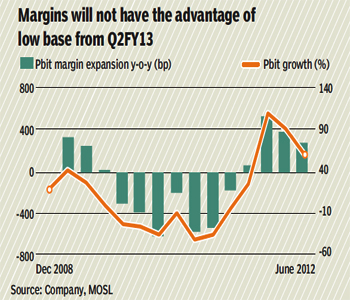 Competitive intensity in key categories of HPC (home & personal care) remains high. While rationality has returned to pricing in detergents, there is no let down in intensity from P&G. Our recent channel checks suggest P&G delivered 20% volume growth in July 2012 in Detergents category.
Advantage of low base for Ebit margins will no longer be available for HUL beginning Q2FY13. Hence, extent of margin expansion will be limited vis-a-vis recent quarters.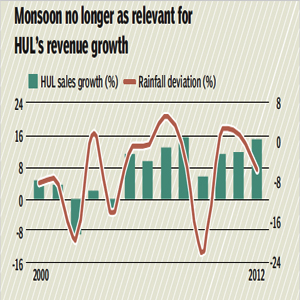 Personal Care: Volumes to drive growth: Performance of personal care will be volume led, notwithstanding the deceleration in discretionary part of the skin care portfolio. Oral care should witness gradual recovery. While recent launches in Pepsodent (intended to fill category gaps e.g. expert protection range) are well accepted, more corrective actions are likely.
HUL does not rule out the possibility of entering the premium hair oil category. It is already present through Clinic Plus and Clear brands. However, it does not intend to focus on commoditised part of the category. This, in our view, precludes its entry into coconut hair oil segment.
HUL's latest launch in hair care, Tressme shampoo is positioned on a niche platform. Hence, it does not expect any invasion meaningful cannibalisation.
Significant correction in input costs may increase competition at lower end: PFAD (palm fatty acid distillate) prices have started to cool off; however, INR depreciation