On the back of strong operating margins, the top four IT services companies have reported good growth in net profit for the last quarter of FY14 with a majority of them indicating better visibility ahead as demand grows. The companies are largely positive on the new fiscal with most of them reporting strong pipeline. The industry body Nasscom has also projected a higher growth for the current fiscal at of 13-15%, as against the 12-14% for FY 14.
Bangalore-based Wipro, which was seen as a laggard till Q3, saw its operating margins go up by 150 basis points (bps) touching 24.5% at the end of fourth quarter, its highest in three years. Its peer from the city, Infosys also saw its operating profit margins rise by 50 basis to 25.5% in the March quarter boosted largely by cost optimisation measures.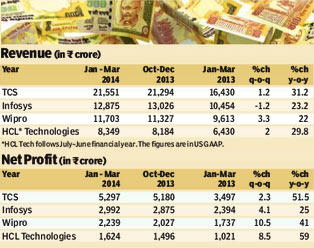 Meanwhile the largest software exporter Tata Consultancy Services (TCS) has reported an operating margin of 29.1%, which reflected a year-on-year (y-o-y) growth of 210 bps, widening its gap with other big IT firms. Delhi-based HCL Technologies also showed a sequential growth of 7.1% in its Ebit margin, which stood at 24.6% for the last quarter.

The top IT services companies are largely confident about the demand in healthcare, retail, banking, auto and pharma while most of them see spending cuts in retail, insurance and high-tech. They reported a strong deal pipeline which indicated some confidence about the volumes and realisations for the current fiscal with growth momentum expected to continue for a few quarters.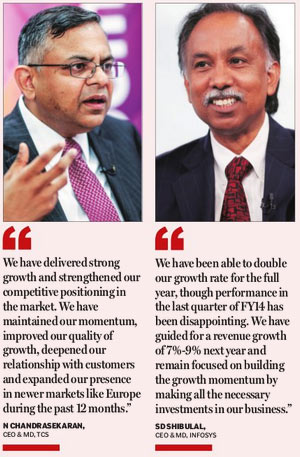 The companies are also creating separate divisions for new growth areas in the sector and are seeing huge growth in the digital system integration business. HCL president and CEO Anant Gupta said that the company is expecting that the business will get to scale and size in three years. The company also got one large deal in this space during the March quarter. TCS said that it will be a $3 billion market in a few years.

While Wipro CEO TK Kurien, who announced a new independent unit Wipro Digital, said that there is demand for leveraging new digital technologies in optimising technology spends and also to differentiate in the marketplace. "We see value at the intersection of physical and digital. We need a new business unit as