Home buyers in metros are making a significant shift towards buying older flats in resale transactions instead of booking them in under-construction projects. Real estate experts say that with the continuing sluggishness in the sector and with no guarantees on timely delivery, end-use buyers prefer ready-to-move in options.
"The resale properties market in India is a thriving one, and can be the source of excellent home purchases. One of the advantages for such buyers often depends on who has put the property on the market as actual users usually do not have the holding power of investors, which can often work to the buyer's advantage," says Anuj Puri, chairman and country head, JLL India.
Across the country, the cases of delayed delivery have increased, spanning projects across all segments. These delays often stretch for years, throwing all planning into a tizzy.
"We were assured the possession of our 2 BHK flat in a project at Panvel by the end of 2012. But there was no sign of possession or even completion until the first quarter of 2013," says Sunita Patil, a resident of Pune. "We can neither withdraw at this stage nor can we buy another property due to lack of funds. To top it, we have to start repaying the home loan even before possession. We are not sure if the project will ever be completed."
In a resale transaction, there is hardly any uncertainty since a prospective buyer can inspect the property and all related papers. The only time a buyer needs is to arrange funds.
In under-construction projects, delays apart, there is no guarantee on the final size of the flat one may get. It could be a case of increased super area or decreased carpet area. The floor can be different from what was agreed upon. In some cases, amenities promised are missing or are inferior, and the view — for which a premium was paid — could be compromised.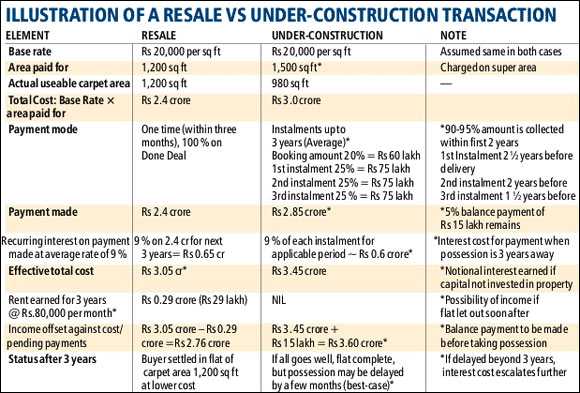 "However in resale transactions, all these parameters are known to the buyer before-hand. He first visits the property and then settles on the price," says Suresh Ranka, a broker from Kandivali, a western suburb of Mumbai. "The buyer makes an informed decision in the transaction. Nothing changes after the deal. You get what you paid for."
In under-construction deals, the buyer has to pay for much more than the actual