a more spacious cabin; the overall height is 105 mm taller than the Amaze. This is also partly because of the 20 mm increase in ground clearance to a solid 185 mm. So cabin space should be pretty impressive.
On the inside, the look of the cabin is familiar. The very compact and space-efficient dash has been carried over from the Brio and Amaze to keep costs down and the Mobilio gets the same slim front seats with the fixed headrests as well.
Honda's mini-MPV will also get an impressive set of engines. Unlike Maruti's diesel Ertiga, where you have to wait a bit for performance to come surging in, thanks to the small, 1,248cc diesel engine, the Honda will be powered by the larger 1,498cc 98.6bhp i-DTEC diesel. We know, from the Amaze, that this motor provides instant throttle responses and plenty of pulling power at low engine speeds.
The Mobilio will also be introduced in Indonesia with a version of the City's current 1.5-litre i-VTEC petrol motor that develops 116bhp and 14.6kgm of torque, and this engine is also likely to be sold in India.
With three rows of seats, Honda's excellent packaging skills, aggressive styling and a strong diesel engine under the hood, the Mobilio will surely give the Ertiga a run for its money. Expect to see the car in India first at the Auto Expo in 2014, with the production version hitting our shores towards the middle of next year.
*Based on the same platform as the Brio and the Amaze.
*Wheelbase has been stretched to 2,650 mm for more space.
*Will use the same 98.6 bhp diesel engine as the Amaze.
*Could use the City's 1.5-litre petrol instead of the Brio's 1.2.
*Will make its Indian debut at the 2014 Auto Expo in February.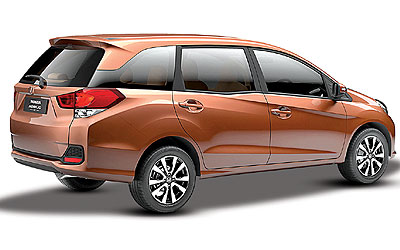 Honda Mobilio: Key specs
Engine size: 1.5 (P), 1.5 (D)
Price from Rs 6-10 lakh*
Installation: Front, FWD
Power: 116 bhp, 98.6 bhp
Torque: 14.9 kgm, 20.39 kgm
Gearbox 5-speed manual
Ground clearance 185 mm
* Estimated