Honda's latest launch of the new RS (O) trim of the Mobilio has made the competition very tough for the good old Toyota Innova. Touted to be the best in the SUV segment, the Innova should start taking this new launch very seriously since the new variants of Honda are offering some excellent and never-seen-before features. And for that, it has released 2 variants for both diesel and petrol. That means double trouble for Innova.
Let us compare both of them and see who comes out as the better MPV.
Pricing
Let's see the pricing details first. Toyota Innova is pretty expensive coming at a price of Rs. 14.92 lakh while the Mobilio with all amazing features like touch screen AVN – Audio-Video and Navigation system along with a reverse parking camera, comes at the much better cost of Rs. 11.55 lakh. The difference is quite huge- Rs. 3-3.5 lakhs, that can make or break the deal for the Indian customers. But being expensive has never really affected the popularity of the Innova.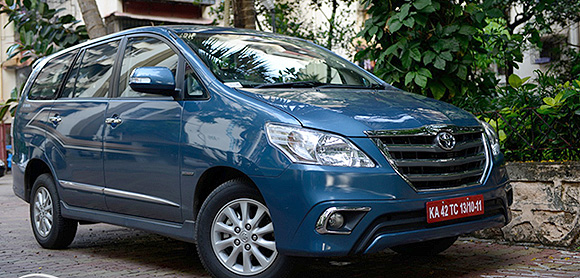 The Mobilio seems to have an edge over the Innova with a more affordable cost rate and fuel efficiency. Honda knows very well how to price its models smartly and will thereby attract more customers.
Power
The Innova is the hands down winner when it comes to power. The biggest and heaviest of the segment, it comes with a 2.0-litre petrol and 2.5-litre diesel engine options and is the most powerful vehicle if you compare. With the largest capacity motor under its bonnet, the 2.0-litre, 4 cylinder petrol engine of the Innova churns out 131.4bhp @ 5600rpm, while yielding 181Nm of peak torque at 4,000rpm. While the 2.5-litre diesel engine produces 100.6bhp at 3600rpm and a rather impressive 200Nm of peak torque at 1200-3600rpm.The power delivery makes driving the Innova effortless even when the vehicle is jam packed. Only drawback in it is that it gives fuel efficiency of only 12kmpl. The Mobilio RS (O) will be available in diesel variety only. It shares its diesel engine options with the Honda City. The engines are powerful and frugal. The 1.5-litre i-DTEC diesel is the most fuel efficient engine in the country today. It belts out 98.6bhp and 200Nm and clearly outshines the Innova with a fuel efficiency of 24.2kmpl.
Dimensions
The overall dimension of a car is the most important aspect