HTC Corporation is updating its flagship HTC One smartphone by giving it a larger screen, better software and more camera features.
The original HTC One received good reviews and was named the best smartphone of 2013 at the wireless industry's premier trade show in Barcelona, Spain, last month. But HTC has failed to translate that glowing praise into sales.
Also read: Samsung Galaxy S5 to be launched in India tomorrow, price likely to be around Rs 40,000
HTC Corporation executives acknowledge that the company made several operational mistakes in releasing last year's phone, including the fact that customers of the leading U.S. wireless carrier, Verizon Wireless, weren't able to buy it until months after its launch. This time, the phone will be available right away through all the major carriers - and Verizon will get it first in stores.
Online orders start Tuesday, while most retail stores will get them by April 10. Verizon will have them in stores on Tuesday as well. The new phone, officially the HTC One (M8), will cost about $200 to $250 with a two-year service contract, or about $650 without a contract.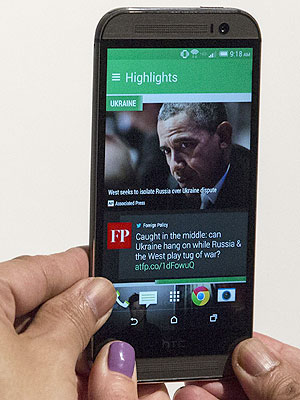 HTC Corporation also plans aggressive marketing, including the heavy use of cable and broadcast television ads. The goal is to reach tech-savvy consumers and trend-setters who are likely to recommend the phone to friends. But HTC executives said it won't try to match Samsung dollar for dollar.

Samsung Electronics Co. currently dominates the global smartphone market. Last year, the Korean company had a 31 percent market share compared with Apple Inc.'s 16 percent, according to Gartner. HTC Corporation had less than 5 percent.

Samsung, in particular, is notorious for its heavy marketing. The company spent nearly 4.6 trillion won ($4.3 billion) in advertising in the 12 months through September, about four times the $1.1 billion Apple spent in the same period, the latest for which figures were available. Although Samsung also makes TVs, refrigerators and other products, analysts believe much of the marketing is for newer products such as phones.

To break through, HTC plans to emphasize the One's metal design. Samsung's phones typically have a plastic back panel, while Apple's iPhones use glass. At Tuesday's launch event, HTC compared the phone's smooth, polished finish with jewelry.

HTC took a few jabs at Samsung Tuesday without mentioning it by name.

Jason Mackenzie, president of