Although in line with the Street's estimates, ICICI Bank's net standalone profit of R2,304 crore in the March quarter, a 21% year-on-year increase, drove down the bank's stock by 2.8% on Friday with the growth at the slowest in nine quarters.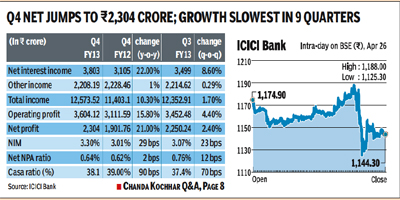 India's largest private sector bank, whose net profit growth has averaged 29% y-o-y in the last seven quarters, saw advances increase just 14% y-o-y in the fourth quarter. The last time the bank's profit and loan growth were slower than this was in in the second quarter of FY11, when profits grew at 18.8% and loan growth was 5.3%.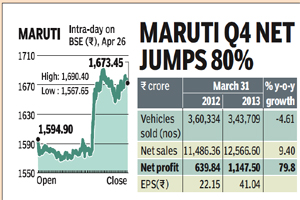 More disappointing for investors was CEO & MD Chanda Kochhar's observation that interest rates would come off only with a lag even if the RBI trims policy rates when it meets to review monetary policy on May 3. "Monetary transmission will happen with a lag because liquidity remains tight and pressure on deposit growth continues. Moreover, the mix of deposits is not favourable since Casa (current account, savings account) isn't growing fast enough," Kochhar told reporters in a post-results conference call. Kochhar felt that unless deposits started growing substantially, even a cut in the cash reserve ratio(CRR) might not prompt meaningful monetary transmission.
Although demand for credit for project finance remains weak, Kochhar expects a pick-up in the latter part of the year to help the bank grow its loan book in the home market by 20% in the fiscal against an estimated 16-17% for the sector. In the fourth quarter, the bank's loan book grew 18% y-o-y.
"There are no new projects coming up yet for financial closure and the demand right now is for working capital but we estimate there could be some revival in the second half of the year," Kochhar said.
ICICI Bank's total income for the March quarter rose just 10% y-o-y and while net interest income at 22% y-o-y saw a reasonably good increase, other income fell 1% y-o-y. The bank hopes to improve on its net interest margin (NIM) of 3.1% for FY13 after reporting a NIM of of 3.3% for the March quarter, a rise of 23 basis points (bps) over the December quarter.
On investigations in allegations of money laundering, Kochhar asserted that both the internal inquiry as also the inquiry by Deloitte revealed that no actual transactions were found to have taken place.
The bank's asset