In November 2012, Idea cellular partnered with the handset maker Alcatel and introduced its Aurus series in India. Alcatel One Touch 985n Blaze was launched under the name 3G Aurus. The Aurus 4, or the Alcatel 5036D, is the latest in this series and is meant for the budget Android customer. It offers dual SIM support and video calling. Idea is betting that the 3G Aurus 4 will change the impressions about the Aurus series.
Design
The phone is certainly appealing at first glance. The Aurus 4 weights 160 grams, sports a non-metallic home button unlike the earlier versions and has all rounded corners. From packaging to use, the phone showcases good design.
It's mid-range credentials are made obvious by the dual-SIM option. But the crisp 4.5-inch multi-touch screen with 16 M colours give it a high-end feel. However, at close quarters you see a bit of pixellation in the icons.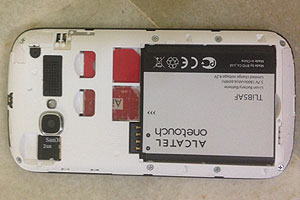 The metal chassis of the 3G Aurus is now replaced by electric graphite, holding the front and back panel together. The back panel has angled scales and speaker along with a powerful flash for the camera. The phone has a good feel in the hand feels great and smooth in one hand.
Performance
However, Idea seems to be repeating some old mistakes with this new phone To start with the touch screen capabilities of the phone were not really up to the mark. The one-touch google search and video buffering is decent. However, we noticed that the phone tends to hang once in a while, irritatingly so.
Idea has packed a 1800 mAh battery. But with the two SIM and the power guzzling Android 4.2.2. Jelly Bean, we did not have much hope for this device. In fact, with 3G, gaming, watching YouTube videos, web browsing and a couple of calls, the phone could give us just six hours on a full charge. With just regular calls and browsing you might be able to stretch this to about 10. Also, keep the video wallpaper off as it will only drain the battery even more. There is video calling on the phone, but I recommend using third party applications like Skype over WiFi.
The Idea 3G Aurus 4 is capable of supporting quad band GSM networks and dual band 3G networks in India. The phone supports dual standby mode, which means that as soon as you answer