Several private Indian firms want to pay off debts by raising up to $5 billion this year through share sales, emboldened by a surge in the stock market and an anticipated economic recovery after Narendra Modi was elected as prime minister.
Leading the equity issuances in the private sector are highly leveraged firms such as GVK Power & Infrastructure Ltd, Adani Enterprises Ltd and others in capital intensive industries such as infrastructure, metals and telecommunications, bankers say.
These companies borrowed heavily in the past few years, when India's economy was one of the fastest growing in the world, but were squeezed by the slowdown in growth last year and the slide in the rupee to record lows.
In most cases, banks stopped giving fresh loans to these indebted companies, whose loans often exceeds their equity several times over, leaving them with few options but to tap the equity market to raise money to reduce their debt.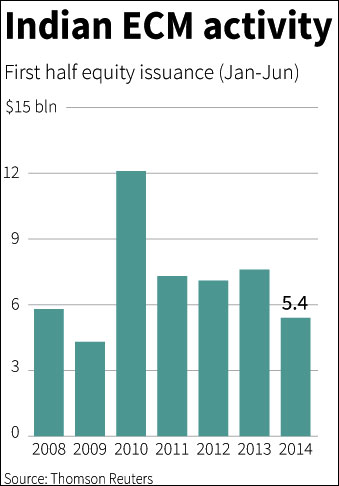 "There will be a stampede of Indian companies going to the markets and trying to reduce leverage to take advantage of this some kind of Modinomics," said Eric Mookherjee, a Paris-based fund manager at Shanti India, which manages Indian stocks.
"The access to capital is much easier now, and you need to clean up your balance sheet before you get into the investment mode again. So, the engine has now been started."
Bankers say 2014 is poised to become the best year for equity offerings in India since 2010, which saw some $24 billion raised by state-run and private companies.
In 2014, state-run firms are expected to raise up to $6 billion via share sales, which, in addition to the $5.4 billion already raised in the first-half of the year and the anticipated issuances by the private sector, would bring the total amount to around $16 billion for the year, according to investment bankers' estimates and Thomson Reuters data.
The rush to raise capital could gather speed if the federal budget on July 10 paves the way for a revival of the economy after the longest spell of growth below 5 percent in a quarter of a century, bankers say.
FINDING FUNDING
Business-friendly Modi was elected by a resounding majority in May and since then, the benchmark stock market index has risen nearly 9 percent to touch record highs,