India has become the "least favourable market", and it now makes business sense to exit and export from China, Finnish major Nokia has told the government. In a letter written this June, Nokia cautioned that the "political risk" of operating in India may impact future investment decisions.
Related: All hopes are not lost on Nokia as store clocks 2 billion downloads
Nokia urged the government to "act quickly to correct the wrong perception of India as a place for business".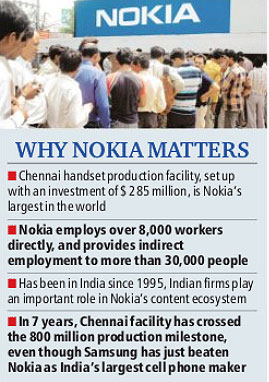 The telecom multinational's caveat came in the wake of fresh income tax disputes and delay in the refund of VAT. It is ominous in the current economic scenario in which foreign direct investment has become a trickle, institutional investors have been pulling out, and several investors have refused to take the plunge after wetting their toes.
In a 'non-paper' dated June 19, 2013, Nokia sent a harsh, terse message to the Ministry of Commerce & Industry: "India has suddenly become the least favourable market."
Technically, a non-paper is an unofficial document. It was received by the finance ministry last month.
Related: Nokia sees growth in sales of Lumia smartphones in India
It said that the non-refund of value-added tax by the Tamil Nadu government made it "more cost efficient for Nokia to have transferred the manufacture of mobile phones to China and to import them to Indian market rather than manufacture them in Chennai".
Under an MoU signed with Tamil Nadu, the state was to refund the four per cent VAT Nokia pays on phones sold in the domestic market from its plant in the SEZ. The issue reached a flashpoint after currency fluctuations and China-Vietnam competition started eroding thin margins, especially in the low-end models.
"The state has not issued a government order in accordance with the MoU," Nokia wrote in the non-paper.
The company has also mentioned the bilateral tax treaty between India and Finland, under which the software business is to be taxed in Finland, where Nokia is based.
In March, the finance ministry had served a retroactive income tax demand of Rs 2,080 crore on Nokia. The I-T department asked the company to pay the tax evaded on its royalty payment to Finland-based parent Nokia Oyj for downloading software on mobile devices manufactured at its Sriperumbudur facility since 2006.
This, Nokia has said, violates the bilateral tax treaty between the two countries. "Nokia