While India witnessed a second straight year of sub-5% GDP growth in fiscal 2013-14, market capitalisation as a percentage of GDP hit a 3-year high. At the end of FY14, the country's market cap stood at R74.4 lakh cr, which is about 130% of GDP, the highest since FY11.
The expansion in market cap during the last quarter of the fiscal was aided by positive sentiment that the BJP-led NDA would maintain a lead in the 2014 general election. The m-cap to GDP ratio for the fiscal was also supported by slower pace of GDP growth (4.7%) while India's market value increased by close to 17% during the period. Though the FY14 m-cap-to-GDP ratio has regained the 2008 level, the yardstick is still 9 percentage points below the heights reached in 2010-11.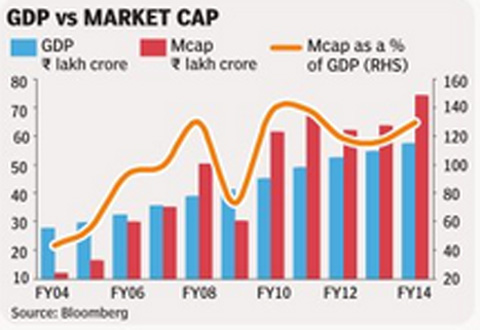 However, experts believe the gap between m-cap and GDP will narrow down, going ahead. "As the new government takes steps to revive the economy, this gap will come down," said Vikas Khemani, executive vice-president and head (institutional equities) at Edelweiss Securities.