Indian stocks today dropped for the first time in five days with S&P BSE Sensex plunging over 651 points, its biggest fall in over a fortnight, on massive selling as the Indian rupee breached 68-mark to the US dollar on fresh signs of trouble in Syria, which was started by Russia's announcement that 'objects' were fired at its ally.
Brokers said the across-the-board selling was also triggered by reports that Standard & Poor's sees chances of a credit rating downgrade for India higher than for Indonesia.
Related: After markets crash, Russia says no missile strike in Syria
The bloodbath in stock markets saw investors becoming poorer by a whopping Rs 1.63 lakh crore as nearly 1,500 stocks on the Bombay Stock Exchange platform ended the trade as losers.
Banks were worst hit with ICICI Bank, Axis Bank, Yes Bank Ltd, HDFC Bank and IndusInd seeing losses up to nine per cent.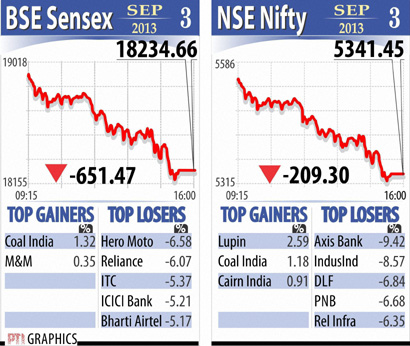 In Sensex, Reliance Industries (RIL) lost 6.07 per cent to Rs 830.10, ITC Ltd by 5.37 per cent to Rs 302.25, Infosys by 1.41 per cent to Rs 3,033.85 and Tata Consultancy Services (TCS) by 2.31 per cent to Rs 2,000.85.
After gaining 918 points in last four sessions, BSE Sensex plunged by 651.47 points, or 3.45 per cent to 18,234.66, after hitting day's low of 18,166.17. Today's fall was the biggest after August 16, when it lost 769 points.
On similar lines, the NSE Nifty tumbled by 209.30 points, to 3.77 per cent to 5,341.45, after touching a low of 5,323.75. The MCX-SX's SX-40 was down 3 per cent at 10842.41.
Reports quoting Russian news agencies said the country's missile early warning system had detected the launch of two missiles from the central part of the Mediterranean Sea fired towards the Sea's eastern coastline, amid growing fears of Western military action in Syria.
Multi Commodity Exchange of India Ltd (MCX)
Domestic markets were also weighed down after Goldman Sachs lowered India's growth forecast for the current fiscal to 4 per cent from 6 per cent earlier and is expecting the rupee to touch 72 against the US dollar in next six months.
With the markets in doldrums,