Continuing its slide, the Indian rupee today breached the 102-mark before closing at 100.6 against the British, even as stock markets saw a revival after a four-day losing streak.
The rupee hit an all-time low of 102.3 against the British pound in intra-day trade, but made a modest recovery to end the day at Rs 100.6 in the Interbank Foreign Exchange market.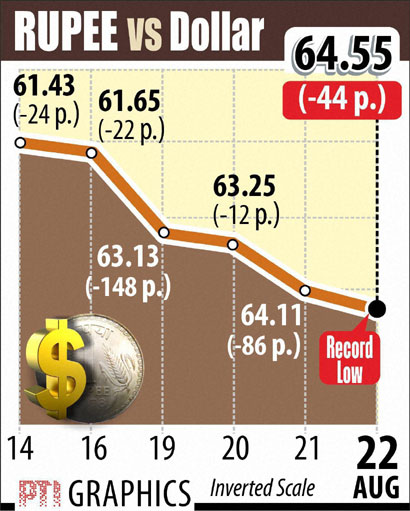 The rupee has been hitting fresh lows below Rs 100 level for three consecutive days now, after breaching this mark for the first time on August 20. With this, British pound has become the first major foreign currency to cross 100 level against rupee.
Against the US dollar as well, rupee hit a fresh low of 65.56 before closing at 64.55.
Steps taken by the Reserve Bank and the government to curb volatility in the exchange rate have had little effect so far. The government is exploring structural measures to narrow the current account deficit, Finance Minister P Chidambaram said, adding, there is no plan to introduce capital controls.
Financial services firm Barclays said in a research note that the rupee is unlikely to get any "meaningful benefit" from the Reserve Bank of India's most recent measures as the key to support the currency is boosting forex inflows.
The rupee's weakness in recent months has come in the backdrop of various macroeconomic concerns in India, including a ballooning current account deficit and adverse global cues.
The rupee has depreciated by over 21 per cent against the pound in the past three months, from close to 83 in mid-May, while it was at about 80 in March.