The Indian rupee was routed on Wednesday, hitting an historic low of 68.825 against the dollar, the worst single-day fall since the currency was partially freed in 1993. It was mayhem in the equity market too, with the Sensex giving up 520 points at one stage before buying by insurance firms saw the benchmark pull back to end at 17,996.15, up 28.07 points.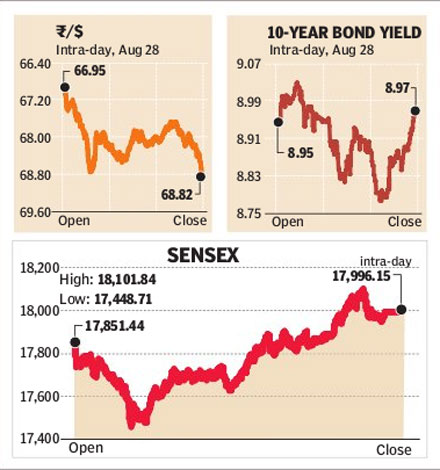 The bond markets, however, had no such luck with the yield on the 10-year benchmark nudging 9% as dealers remained unconvinced the government would be able to rein in the fiscal deficit with the additional expenses on food security.
Wednesday's fall of 3.85% in the rupee came on the back of a fall in equities and currencies across geographies on concerns of military action in Syria and growing anxiety about the possible portfolio outflows from emerging markets (EMs) following the tapering by the US Federal Reserve of its quantitative easing programme. Domestic concerns such as the fiscal costs of the Food Security Bill — passed by the Lok Sabha on Monday — also weighed on the rupee.
At these levels the currency may have triggered a vicious cycle where its free fall could fuel further dollar outflows. Given the emerging geopolitical concerns as US and the UK get ready to launch a military attack on Syria, a flight of dollars from EMs could only intensify, dealers said.
Foreign institutional investors (FIIs) have been net sellers in equities to the tune of $800 million in August. Portfolio flows have otherwise been a strong source of capital flows for the country. Dealers believe this is worrisome given FIIs have been hit by the depreciation in the rupee, eroding the value of their investments.
The 30-share Sensex has fallen 7% over the last fortnight to 17996.15 points, while the rupee has weakened by a steep 11%, which means FIIs' investments would have lost about 18% in value in this period. After falling nearly 3% or 520 points in morning trade, Indian equities staged a strong comeback on Wednesday led by buying from large domestic mutual funds and insurers, most noticeably Life Insurance Corporation of India (LIC). The intra-day rebound in the rupee to near 67.65 also drove up the Sensex. While the exact quantum could not ascertained, market sources said LIC may have bought shares worth R1,000 crore to R1,200 crore.
"FII outflows could be on