The Indian rupee plummeted to a new low on Wednesday to almost 69 to the dollar on rising concerns of a flight of capital by foreigners invested in India at a time when a sharp surge in oil prices threatens to worsen the country's current account position.
Heavy dollar demand in the foreign exchange market, largely panic-driven, negated the impact of Reserve Bank of India interventions to prop up the rupee, dealers said. The currency ended the day at 68.83 to the dollar, down 3.9 per cent from its previous close, after touching a new lifetime low of 68.85.
This is the biggest daily decline in 20 years. In absolute terms too, the 256 basis point fall in the rupee was the biggest ever.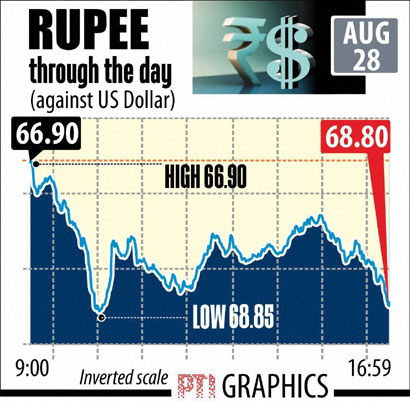 Dealers said that in as much as the fall was driven more by domestic corporates rushing to hedge their trade credit, thus shorting the currency, than by foreign institutional outflows, a sell-off push towards the psychologically key 70 level now appeared inevitable.
In the stock market, state-run Life Insurance Corporation, which was reported to have bought shares, enabled the domestic benchmark index to erase steep early losses and end the day stronger.
How falling rupee hits jobs, pay and costs
Despite heightened fears of a US-led military intervention in Syria sparked a selloff across global markets and currencies, the Sensex staged a dramatic intra-day recovery of over 500 points in late trade.
Brent crude oil futures — the global benchmark — which have surged 6 per cent in the past two days, hit a fresh six-month peak of $ 117.34 a barrel on Wednesday, raising the spectre of another fuel price hike and the spill-off effect on inflation in India.
Bangladeshi taka catching up with rupee
The finance ministry on Wednesday described the sharp depreciation of the rupee as a reflection of "irrational sentiment". "It will correct itself. It is important to stay on the course. There is no need to panic," Arvind Mayaram, department of economic affairs secretary, said.
Mayaram asserted that the current account deficit (CAD) in 2013-14 would be much lower than expected. He also ruled out a ban on derivatives trading in the currency market, which many experts believe will help curb speculation.
Foreign investors have sold almost $ 1 billion of Indian shares in the eight sessions through Tuesday, a worrying situation given that Indian stocks