Student Mikael Haris is wrestling with the sort of question confronting others across India, including companies, investors and banks, following the 18 per cent slump in the rupee this year.
With plans to study for a masters degree in marketing in London from this month, he is trying to decide whether to pay his course fees up front and secure a discount, or to spread them out in the hope that a rebound in the rupee will ultimately reduce his costs.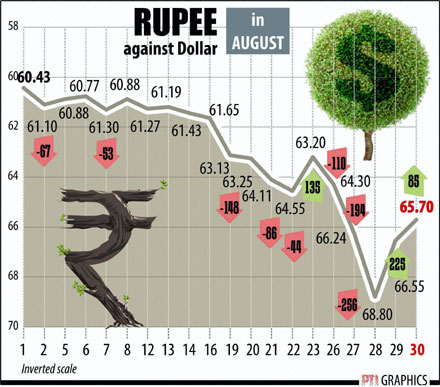 "We are kind of speculating how to pay the fee, to see whether the rupee will regain its strength. It is a strategy that makes you think, how to lower your expenses," Haris said.
The slump in the rupee as the country struggles with decade-low economic growth and a record current account deficit has hit confidence across the country and among international investors.
For the 800,000 or so Indian students who go overseas to study each year, the main question is whether they can still afford to do so as their costs in rupees have risen by as much as 20 per cent. The top three destinations to study are the United States, Britain and Australia.
The Associated Chambers of Commerce and Industry of India (ASSOCHAM) estimated overseas Indian students spend the equivalent of about $15 billion a year to pursue their studies.
"If the currency continues to depreciate, it will certainly put a doubt in the mind of students on whether to look at going abroad next year or not," said New Delhi-based Ajay Mittal, a director at International Placewell Consultants Pvt Ltd, a student placement company.
"If the slide does not stop it may affect the January or next September admissions," Mittal said.
"ONE EXTRA BEER"
Students already studying overseas are looking to cut costs, rely on savings or find work to cover their shortfalls.
Pooja Raman, who is studying International Business Law at the National University of Singapore, is worried about paying off her education loan after her expenses rose by 15 per cent in recent months. Most Indian students take loans for their studies overseas.
"If the rupee continues on this devaluation path, it would get difficult to repay it within the given time and I might have to take another one," Raman said.
Adding to the pressure, state-run Indian banks have not raised the maximum limit on education loans to account for the fall in the rupee, meaning what used to