The Indian rupee today continued to freefall, plunging to 64.54 against the US dollar for the first time ever before recovering some ground to end at 64.11, still down a staggering 86 paise to a fresh closing low.
The Indian rupee's slide continued amid steps by the Reserve Bank of India (RBI) yesterday to increase availability of cash in the banking system. Heavy dollar demand from importers, continued capital outflows and expectations the US Federal Reserve would start withdrawing its bond-buying programme next month also weighed on the currency.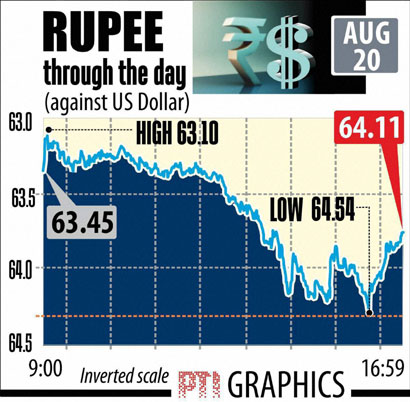 At the interbank foreign exchange market, the Indian rupee opened lower at 63.45 a dollar from the previous close of 63.25 and touched the day's high of 63.10 on an initial rally in local stocks.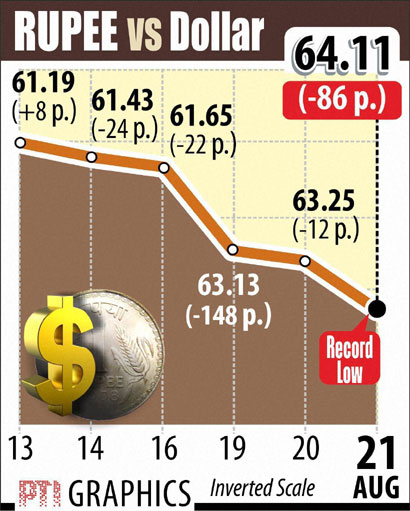 It later fell sharply to a lifetime intra-day low of 64.5450 before recovering some ground on likely RBI intervention to settle at 64.11, a fall of 86 paise or 1.36 per cent. In five straight sessions, the currency has lost 292 paise or 4.77 per cent.
"Despite the slew of measures taken by the Reserve Bank of India (RBI), Indian rupee is seen giving a muted reaction to the same and going on with its weak trend," said Abhishek Goenka, founder & CEO of India Forex Advisors. "Today's FOMC (Federal Open Market Committee) minutes will be very important for the currency markets."
The benchmark S&P BSE Sensex today plunged by over 340 points or 1.86 per cent, extending losses for the fourth straight session, while FIIs pulled out a net USD 214.14 million from equities, as per Sebi data.
The dollar index was trading higher by 0.15 per cent against its major rivals ahead of US Federal Reserve meeting minutes that may shed more light about the timing of an expected reduction in monetary stimulus.
Worried over a spike in interest rates in the wake of steps to support the falling Indian rupee, the Reserve Bank of India yesterday announced a slew of measures to ease liquidity, including an Rs 8,000 crore bond buyback, to ease liquidity and ensure adequate credit flow to productive sectors of the economy.
"The central bank was seen selling US dollars via state-run banks starting around 64.40 levels," said Pramit Brahmbhatt, CEO of Alpari Financial Services (India). "The trading range for the Indian rupee is expected to be within 63.60 to 64.60."
Forward dollar premiums declined