BSE Sensex index target - 27,000 points: India has been the best performing market YTD (year-to-date) but now faces two headwinds that could lead to near term consolidation in the stock markets. First, El Nino worries could lead to a poor monsoon. We believe this will hurt both, GDP growth (could be lower by 50-75 bps) and inflation (could rise by 200-300 bps). Secondly, the strife in Iraq and consequent rise in oil prices poses a risk to inflation (50-75 bps higher inflation for every 5% change in oil prices) as well as current and fiscal deficit (every $10/barrel of oil increases current account deficit by 0.4% of GDP and fiscal deficit by 0.2% of GDP). However, we continue to be bullish on the market and expect reforms to drive markets to our year-end target of 27,000.
Reforms by PM Narendra Modi to drive re-rating: We continue to expect markets to re-rate, led by expectations of a surge in reforms and an economic recovery to follow in 12-18 months. Our year-end target values the market at 16.5x, a premium to long-term averages of 14.5x. If we look at the 2009 elections too, the markets traded at 16-18x for the rest of the year.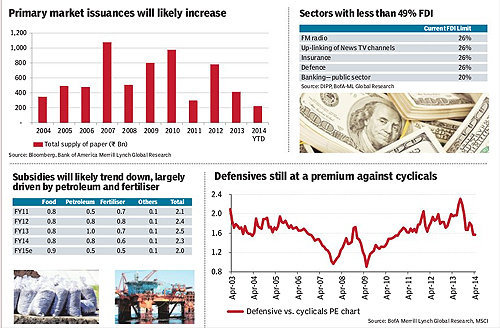 So what can Narendra Modi do?
#1: Kick-start the investment cycle: The investment cycle will likely take 12-18 months to start turning around. We expect the following steps from the government to facilitate acceleration in the investment cycle:
(a) Faster clearance of projects: The Cabinet Committee of Investments (CCI) constituted by the UPA has cleared projects worth $90 billion. There are projects worth $275 bn outstanding with the CCI. We think clearing these would be a priority of the new government. The Modi government would probably identify 10-15 of the large ones that can be cleared quickly and are ready to implement so that work can start on these.
(b) Working with states on project clearances: Apart from these projects at the Centre, there is an equivalent number, if not higher, of projects stuck at the state level for want of clearances. The Modi government has said it will work closely with states to accelerate development. We think they may work initially with the NDA-ruled states.
(c) Focus on projects already underway: Some projects where work is already underway could help the revival process.
(d) Land