Indian households have piled up as much as 20,000 tonnes of gold, worth $1.16 trillion, an historic high. This shows that the government's efforts to trim overseas purchases of the idle asset by imposing an import duty and raising it in short intervals to reduce the current account deficit (CAD) haven't yielded the desired results.
The World Gold Council's (WGC) latest estimate of India's household gold reserves is 11% higher than the 18,000 tonnes it had been pegged at earlier. Coupled with 557.7 tonnes of the central bank's holdings, gold stocks at known sources in the world's largest consumer would represent more than 75% of its gross domestic product. Gold prices in Mumbai stood at R32,325 per 10 gm on Wednesday.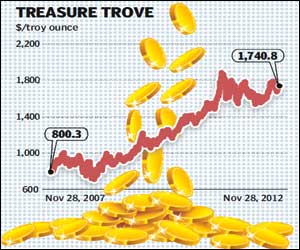 Periodic surveys by private firms and independent researchers had, from time to time, pegged India's household reserves in the range of 18,000 to 24,000 tonnes, but the WGC, the miners' body whose estimates are widely tracked, has never put Indian household reserves at such a high level.
Anecdotal evidence would point at a significantly higher volume as the estimates don't factor in unaccounted reserves held by religious institutions and trusts.
The government effectively doubled the import duty on gold to 2% in January and followed it up by raising it to 4% during the budget announcement in March. Gold imports worth $50 billion helped push up the CAD to a record 4.2% of the GDP in the financial year through March. The CAD rose to 3.9% of the GDP in the first quarter of 2012-13, compared with 3.8% a year earlier.
Adding to policymakers' worries, after three successive quarters of decline, gold demand surged 9% to 223.1 tonnes in the three months through September, defying an 11% drop globally. In value terms, Indian demand shot up by an impressive 27% to Rs 65,373 crore in the September quarter from a year before, thanks to a more than 20% depreciation of the rupee.
"In the first half of 2012, gold demand in the country was affected by elevated prices, economic slowdown, doubling of import duty and the consequent strike by jewellers for around a month. However, demand rebounded in the September quarter as people got adjusted to the high prices. Moreover, a late revival of monsoon and restocking by traders and jewellers ahead of the festive and wedding season were key reasons for the upward trend in demand," Amresh Acharya, director (investment)