Economic growth in India in the April-June quarter of this fiscal slipped to 4.4 per cent, the slowest pace in at least four years, dragged down by a contraction in manufacturing and mining sectors.
Standard Chartered cuts India's FY'14 GDP growth forecast to 4.7 pct
The country's gross domestic product (GDP) had expanded by 5.4 per cent in the April-June quarter of the last fiscal. On a sequential basis, the growth rate declined from 4.8 per cent in the January-March period of 2012-13.
Commenting on the data, Economic Affairs Secretary Arvind Mayaram said, "Growth in the second quarter will improve and growth in the third and fourth quarters would be better."
Growth may slow further due to higher short-term rates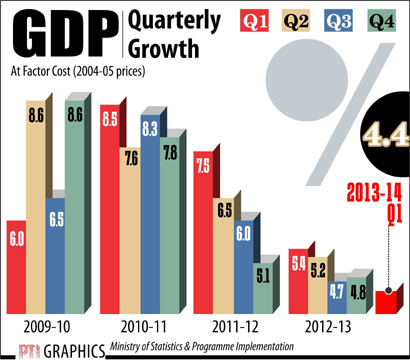 Mining and quarrying contracted by 2.8 per cent in the April-June quarter against a 0.4 per cent growth in the same period of the last fiscal, according to data released today by the Central Statistical Organisation (CSO).
The manufacturing sector posted a contraction of 1.2 per cent as against a decline of 1 per cent in output a year earlier.
Other sectors, including construction, power generation, hotels and transport, showed a marked deceleration in growth.
Farm sector output expanded by 2.7 per cent in April-June compared with 2.9 per cent in the corresponding period of the last fiscal.
Growth in electricity, gas and water supply was 3.7 per cent in the April-June quarter compared with 6.2 per cent in the same quarter of 2012-13.
The construction sector expanded 2.8 per cent as against 7 per cent in the year-ago period.
The trade, hotels, transport and communications segment grew at 3.9 per cent against 6.1 per cent.
The growth rate in the services sector, including financing, insurance and real estate, stood at 8.9 per cent against 9.3 per cent in same quarter of 2012-13.
Community social and personal services registered a growth of 9.4 per cent compared with 8.9 per cent.
"We were aware that the growth rate has been slowing down. We never felt that in the first quarter there was much sign of an improvement...it is in the second half of the year that we might see an improvement," Planning Commission Deputy Chairman Montek Singh Ahluwalia said.
According to Ahluwalia, improvement in the second quarter of this fiscal would be "mainly because of the number of steps that have been taken in the last two or three