Analysts have seen the appointment of Vishal Sikka as positive for Infosys as it will steer the company in a new direction at a time when IT services is undergoing transformation. They expect that 47-year-old Sikka, with time and pedigree on his side, will be able to chart a new course for Infosys.
The reading is that Infosys will now fashion one side of its business into a large product play, while retaining its obvious strengths in the IT services. This move is also seen as the company's aspiration to be a global technology major and not just an outsourcing vendor.
"The evolution of recent technological trends definitely mandate Indian IT outsourcing vendors to take a lead in innovation. Infosys clears its ambition to take the lead in IT services with differentiation under the leadership of Sikka," said Shashi Bhusan, senior research analyst-institutional equities at Prabhudas Lilladher.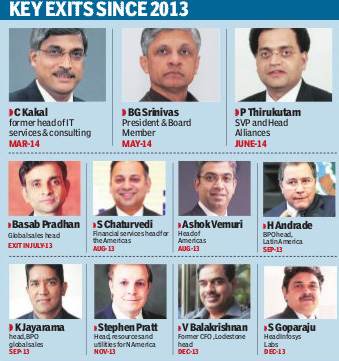 In an increasingly commoditised world of IT services, it is becoming all the more imperative that companies create a strong differentiation and standout in the marketplace. According to Sanjeev Hota, assistant vice-president, IT research, Sharekhan, the Indian IT services companies' outlook need to change and Sikka has a global leverage and brings with him product experience.
According to technology research firm IDC, to further accelerate the transformation process and to continue its journey on to a higher growth trajectory, Infosys needed a heavyweight external CEO and Sikka brings the necessary gravitas to the role. "The high-level network he brings to the table will also be crucial for Infosys to leverage in order to grow faster. Sikka already has a deep understanding of where Infosys needs to go, and what it needs to do to get there," said Jaideep Mehta, VP and general manager, IDC South Asia.
The big boost for Infosys will be getting its confidence back by hiring a Silicon Valley stalwart. Barclays in its report said, "We think the strong technology credentials of Sikka and his relative youth should bring back confidence in the company and could set it on the next leg of growth."
Sikka, who is the first non-founder CEO at Infosys, joins the company at a time when it is under immense pressure to arrest and reverse the high-level management exits.
Infosys, which has seen a dozen exits after founder NR Narayana Murthy took over as executive chairman an year