Infosys results Q2 2012: Infosys, India's second largest IT services exporter reported a 24% rise in net profit for the second quarter ending September 30, 2012. The company posted a net profit of Rs 2369 crore as compared to Rs 1,906 crore in the corresponding period a year ago.
Infosys results July 2012 revenues for the second quarter ending September 30, 2012 rose by 22%. The company reported a revenue of Rs 9,858 crore as compared to Rs 8,099 crore in the corresponding period a year ago.
After plunging as much as 8.8%, Infosys shares recouped losses after company clarified that the revenue growth forecast for the current fiscal year that ends in March 2013 does not include revenue from Lodestone Holding AG.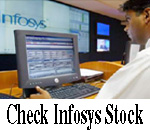 COMMENTARY
ANKUR RUDRA, ANALYST, AMBIT CAPITAL, MUMBAI
The numbers are quite disappointing. The company continues to lag its peers. The departure of the CFO will continue to be an overhang on the stock in the near term, although he is not leaving the company. The cut in EPS guidance is specially disappointing.
DIPEN SHAH, HEAD OF PRIVATE CLIENT GROUP RESEARCH AT KOTAK SECURITIES, MUMBAI
Earnings and revenue guidance is slightly disappointing, on the volume growth the company has done well.
We had expected some higher guidance because of Lodestone acquisition, that has not come, we need to see what are the reasons behind that.
ANKITA SOMANI, ANALYST, ANGEL BROKING, MUMBAI
Operating margins have declined. The lower dollar revenue guidance even after Lodestone acquisition means their business is under pressure. Management changes are additional negatives too.
NILESH SHETTY, PORTFOLIO MANAGER, QUANTUM ASSET MANAGEMENT COMPANY, MUMBAI
You have had a clear divergence in performances in other large (IT companies) versus Infosys. Our analysts met them (IT companies) last week and they have given such a bullish outlook in terms of longer term view; there seems to be some company specific issues with Infosys, whether they are redoing their strategy or there is a succession issue.
Our view is even if growth is an issue (for the IT industry) say in the near term, valuations have already factored that in.
KISHOR P. OSTWAL, CHAIRMAN, CNI RESEARCH, MUMBAI
The numbers are in line but not the guidance. I think Infosys stock will correct by at least 5 percent.
On the sector guidance... I think most of the analysts are now becoming negative on the IT sector.
G. CHOKKALINGAM, EXECUTIVE DIRECTOR & CHIEF INVESTMENT OFFICER, CENTRUM WEALTH MANAGEMENT, MUMBAI
I have been selling