Investigators are conducting a forensic examination of the final recorded conversation between ground control and the cockpit of Malaysia Airlines Flight 370 before it went missing three weeks ago, the Malaysian government said Tuesday.
Meanwhile Australia, which is coordinating the search for the Boeing 777, cautioned that it ''could drag on for a long time'' and would be an arduous one.
The forensic examination could shed light on who was in control of the cockpit and will also seek to determine if there was any stress or tension in the voice of whoever was communicating with ground control - crucial factors in an air disaster investigation.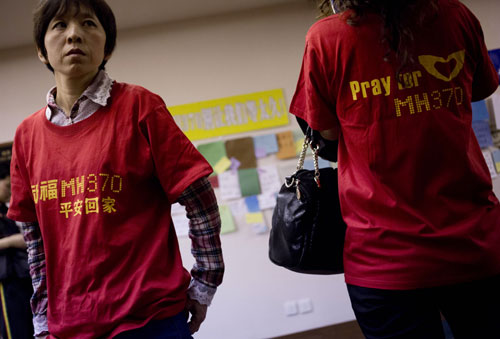 Women, relatives of Chinese passengers aboard the missing Malaysia Airlines flight MH370, stands near papers with writings for wishes for the passengers onboard the missing plane as they arrive to attend a daily briefing held by Malaysian officials at a hotel in Beijing, China. Australia deployed Tuesday an airborne traffic controller over the Indian Ocean to prevent a mid-air collision among the many aircraft searching for the Malaysia Airlines jetliner that went missing over three weeks ago. (AP)
Responding to repeated media requests, the Malaysian government also released a transcript of the conversation, which showed normal exchanges from the cockpit as it requested clearance for takeoff, reported it had reached cruising altitude and left Malaysian air space.
''Good Night Malaysian three-seven-zero,'' were the final words received by ground controllers at Kuala Lumpur's international airport at 1:19 a.m. on March 8. On Monday, the government changed its account of the final voice transmission which it had earlier transcribed as ''All right, good night.''
The hunt for Flight 370 has turned up no sign of the jetliner, which vanished March 8 with 239 people on board bound for Beijing from Kuala Lumpur.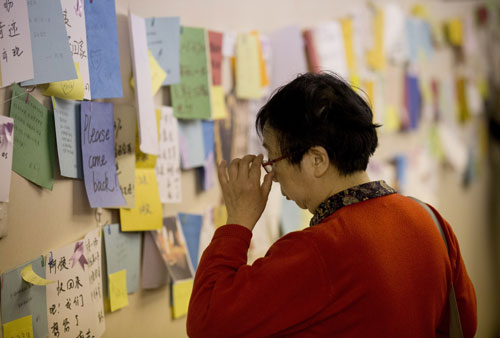 A woman, one of the relatives of Chinese passengers aboard the missing Malaysia Airlines flight MH370, looks at the papers with writings for wishes for the passengers onboard the missing plane at a hotel in Beijing, China Australia deployed Tuesday an airborne traffic controller over the Indian Ocean to prevent a mid-air collision among the many aircraft searching for the Malaysia Airlines jetliner that went missing over three weeks ago.(AP)
The search area has shifted as experts analyzed the plane's limited radar and satellite data, moving from the seas off Vietnam