In a move to attract more long-term dollars into government bonds, the Reserve Bank of India (RBI) has hiked the investment limit for foreign investors, such as sovereign wealth funds, pension funds and foreign central banks, to $10 billion from $5 billion.
However, the overall investment limit in government bonds for foreign institutional investors (FII) has been kept at $30 billion.
The hike in the long-term investment limit will reduce the debt available for short-term investments to $20 billion from $25 billion earlier.
The exit of short-term FII investments from the debt market in 2013 had resulted in a massive fall of the rupee and a surge in bond yields. The currency hit an all-time low of $68.85/$ in August after FIIs pulled out a record $12 billion from the debt market.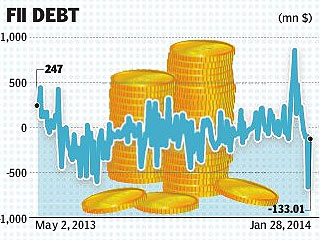 While foreign investors have been net purchasers of bonds in December and in the first 15 sessions in January, FIIs have turned net sellers over the last three trading days. This had pulled the rupee down to a nine-week low and the currency ended at 62.41/$ on Wednesday.
On Tuesday, RBI governor Raghuram Rajan said the volatility in the currency market could be attributed to this recent exit of short-term funds from the debt market. Rajan also said that long-term funds have stayed despite the recent market volatility globally.
Out of the $30 billion investment limit in government bonds, the RBI had first earmarked $5 billion for long-term investors in June 2013. As on Tuesday, only 22% of this $5 billion has been used by these long-term funds.
In total, FIIs have used not even half of the $30 billion limit available in government bonds.
In corporate bonds, foreign investors have used only 30% of the $51 billion available.