Everything in life has a risk-return trade-off. The higher the returns from a particular investment, the higher will be the risks involved. Although risk plays an important part in taking investment decisions, not many people are aware of how to determine this. It is important to differentiate between risk appetite and risk tolerance.
These two are mostly used by investors interchangeably. It is crucial that you understand that risk appetite means your readiness to take the risk and risk tolerance implies the ability to do so. To draw an analogy, you might love bungee jumping (which refers to your risk appetite), but you must also be physical fit enough in order to perform it (which is akin to your risk tolerance). While risk appetite differs from person to person, risk tolerance is usually estimated keeping in mind the financial circumstances and other factors of the individual.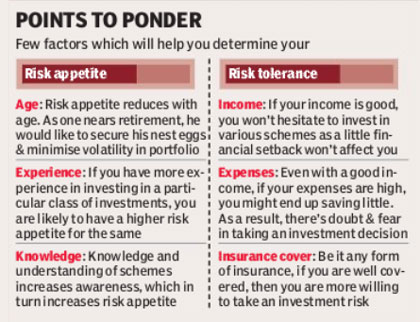 Here are a few factors which will help you determine your risk appetite
Age: An individual's risk appetite generally reduces with age. As one nears retirement, he would like to secure his retirement corpus and would like to minimise volatility in the portfolio. On the other hand, a younger person will have a higher risk appetite to invest in equities and higher risk investments, as he has time to recoup his losses if need be. This implies he has a higher risk appetite in his 20s against what he might have when he nears his retirement. Although this is true for most investors, there are some exceptions where age does not determine the risk appetite.
Experience: If you have more experience in investing in a particular class of investments, you are likely to have a higher risk appetite for the same. This is because of the comfort level that comes with repeated buying. After earning high returns, you would be willing to take higher risks.
Knowledge: Having knowledge and understanding of schemes and investments will increase awareness, which in turn increases risk appetite. If you are aware of the latest schemes and how they work, you will be tempted to try your luck.
Now, here are a few factors that can help you determine your risk tolerance:
Income: This is the biggest factor to establish your risk tolerance. If your income is good, you won't hesitate to invest in various schemes as a little financial setback won't affect you.
Expenses: Even with