Insurance companies have gone on the war path with car dealers who have found selling insurance is more lucrative than selling vehicles.
Car dealerships are being offered commissions of up to 40 per cent by two leading general insurance companies to ramp up business.
The issue has riled the industry so much that the sector regulator has asked the apex trade body of the insurance companies, The General Insurance Council to discuss the matter at its meeting next week.
The general insurance companies have two grouses. The generous commissions being offered by the leaders in the sector have created a cartel, they feel.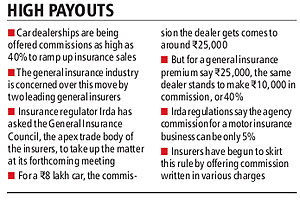 It has pulled down volumes of car insurance business coming to the others and it is also increasing the premium being paid by consumers when they buy cars.
Due to the sensitive nature of the issue, none of the industry players were willing to come on quote.
A CEO of an insurance company, who did not wish to be named, said, "The regulator has, in the past, raised its concern on insurance companies pushing their products by offering higher commissions to the dealerships and the issue will be taken up in the upcoming meeting of the council."
It happens as follows. If a car dealer sells a vehicle at an average price of Rs 8 lakh, the commission on the car would usually come to about Rs 25,000 after offering all discounts. But for the same car, for which the insurance will be about Rs 25,000, the commission from the insurance company to the dealer could go up to Rs 10,000.
"This is a handsome margin on the sales," said the top official of a dealer. The higher the margin offered by an insurance company, the more is the possibility that the dealer will drive the insurance business to it, he said.
Insurance Regulatory and Development Authority (Irda) regulations say the agency commission for a motor business cannot exceed 5 per cent.
The insurance companies have begun to get away from the restriction by offering commission that are written in as scores of miscellaneous charges like business promotion, sponsorships and so on.
There are 24 companies in the general insurance sector with the motor portfolio accounting for Rs 16,051 crore of gross premium underwritten (GPU) as on September 2013 and it is 41 per cent of the total GPU for the non-life insurance business. Within motor,