Soon after actor Sunil Grover's exit from popular comedy show 'Comedy Nights With Kapil', it looks like the show's producers have already found a replacement in television actor Gaurav Gera.
In Pics: Gutthi is back, romances 'Bullett Raja' Saif Ali Khan
Gaurav Gera, who was recently seen in a similar role in TV show 'Mrs Pammi Pyarelal' was spotted in Gutthi's trademark attire with actor Saif Ali Khan on the sets of 'Comedy Nights With Kapil'.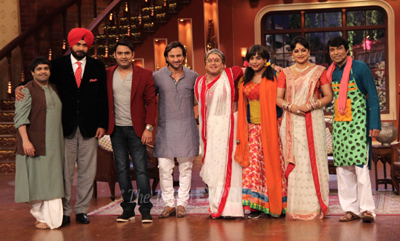 Saif Ali Khan, who was there to promote his upcoming film 'Bullett Raja', was seen interacting with Gaurav Gera almost in the same way as Sunil Grover did.
Besides the new promos of Kapil Sharma's series, show Kiku aka Palak calling out for her sister Gutthi, who has been missing in action ever since Sunil Grover's exit.
On November 20, the show's producers Viacom 18, had issued a public statement in the newspapers saying that whosoever attempts to launch or be associated with the character 'Gutthi', warning that the network will resort to legal action. In their notice released, Viacom 18 has further said that no artist can emulate Gutthi's mannerims since it is sole right of the show 'Comedy Nights With Kapil'.
When comedian Sunil Grover decided to quit the show there was a huge outcry from fans to get the stand-up comedian back. Will Gaurav Gera match up to Sunil Grover's standards as Gutthi? Only time can tell.