Facing a potential tax demand on alleged capital gains of Rs 24,500 crore it made seven years back, Cairn Energy has been slapped with two more notices which the Scottish explorer plans to counter vehemently.
Cairn faces a potential tax demand on an alleged Rs 24,500 crore of capital gains it made when in 2006-07 it transfered all its India assets to a new company, Cairn India.
It said none of the transactions undertaken by it during that fiscal were chargeable to tax in India.
Its wholly owned subsidiary, Cairn UK Holdings "filed a nil return for the year in question on the grounds that none of the transactions undertaken by it during that fiscal year were chargeable to tax in India," the company said in a statement.
In addition, Cairn has received two further notices from the Income Tax Department.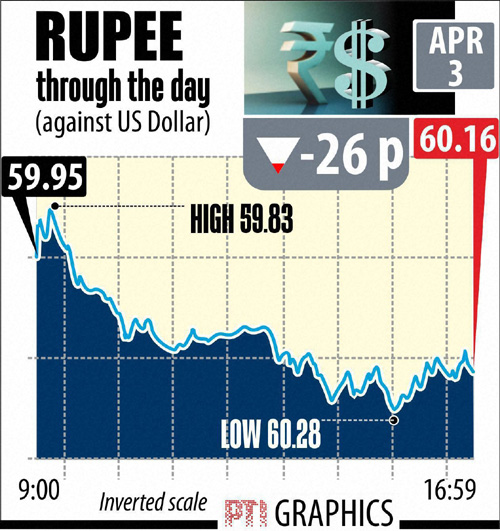 Indian rupee through the day against US dollar. The rupee today dropped 26 paise to close at 60.16 against the dollar on fresh dollar demand from banks and importers in view of the US currency gaining in overseas markets and weakness in local equities. (PTI)
"The first, dated March 29, 2014, is a request made to Cairn Energy to file a tax return for the fiscal year ended 31 March 2007. Cairn intends to file a nil return for this notice.
"The second, dated March 31, 2014, claims that CUHL should have withheld tax on dividends paid to its parent company, Cairn Energy," it said.
Stating that no tax demand has been raised, Cairn said it "intends to respond to the notice refuting this claim".
"Throughout its history of operating in India Cairn has been compliant with the tax legislation in force in each year. Cairn has stated that it intends to take whatever steps are necessary to protect the company's interests," the statement said.
The I-T department has restrained Cairn from selling its residual 10.3% stake, worth over $1 billion, in Cairn India till the tax dispute is resolved.
Cairn Energy had in 2011 sold majority stake in its Indian unit, Cairn India to mining group Vedanta for $8.67 billion. It still holds 10.3% stake in Cairn India.
The I-T Department had in a January 22 order held that the Edinburgh-based firm made capital gains of Rs 24,503.50 crore when it transferred its entire India business from subsidiaries incorporated in places like Jersey, a tax haven, to the newly incorporated