Post bifurcation of Andhra Pradesh, the information technology and pharmaceuticals manufacturing sectors may become backbone of Telangana economy, leaving power production, ports and oil and natural gas to play a pivotal role in driving prosperity in the residuary state.
With nearly 1,000 km-long coast line, the coastal Andhra has major private ports such as Krishnapatnam, Kakinada and Gangavaram, besides state-owned Vizag Port and can continue to reap rich harvest by way of export and import of commodities such as iron ore and coal.
Lok Satta Party national president and MLA Jayaprakash Narayan, however, cautions that Rayalaseema region, part of residual Andhra Pradesh (the other part being coastal region), will be badly impacted in terms of revenue after the division.
"While Hyderabad city (which would be joint capital of the two states for 10 years before being exclusively of Telangana) had Rs 13,000 crore revenue surplus, Rayalaseema had Rs 7,000 crore deficit (four districts, 15 million population) during 2012-13. The proposed pay revision this year would take Rayalaseema's deficit to Rs 9,000 crore. The region will not have enough revenue to pay even staff salaries," Narayan said.
As much as 20,000 mw additional power capacity is targeted during the 12th five-year plan and beyond in Seemandhra region, including 6,000 mw nuclear power plant to be set by the Nuclear Power Corporation at Kovvada in Srikakulam District.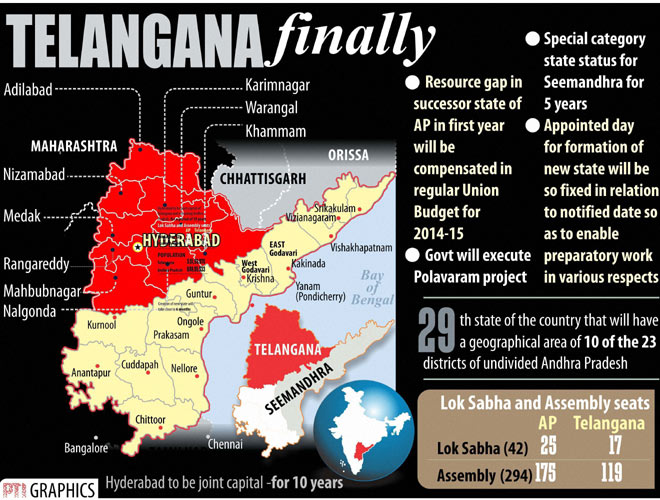 Telangana being land-locked will have to depend mostly on road and rail for transportation.
However, as the Rajiv Gandhi International Airport at Hyderabad has necessary infrastructure for storage of drugs and pharma exports from Telangana may not face any hurdles. Hyderabad almost accounts for nearly 20 per cent of pharma exports from India.
Y Harish Chandra Prasad, past chairman of CII Andhra Pradesh and chief coordinator of CoastaRayala Development, said, "Telangana has the advantage of having ready made capital with all necessary infrastructure and eco system. Andhra will have to search for one and build."
Telangana may face problems on the power front as the region largely depends on lift irrigation schemes for agriculture and drinking water which consumes a lot of electricity, Prasad said.
"Once the KG-basin gas production picks up, gas-based power plants located in Seemandhra region will generate more power leading to become a power-surplus state. The central government should create necessary infrastructure for evacuation of power which is expected to generate from the upcoming projects,"