Stock rating: 'BUY' - TCS, Wipro, Tech Mahindra Ltd v 'HOLD' - Infosys, HCL Technologies shares. Weak Indian rupee could be used to gain share: Indian IT service companies will benefit from the steep depreciation of the rupee for the second year in a row. While rupee depreciation has a positive impact on the margins (and hence earnings) of the Indian vendors, importantly it also improves the competitiveness of the Indian IT service companies and can be used to gain market share. In particular, it will enable vendors to enhance win rates in IMS (infrastructure management services)-based deals. Margin pressure exerted by these deals (which, in some cases, involve transfer of assets and employees), particularly during the ramp-up years, can be offset by gains from a weaker rupee.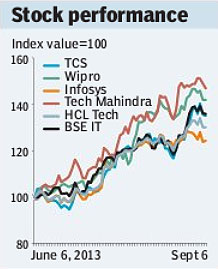 Our analysis demonstrates that even if Indian vendors endeavour to maintain operating margins, ceteris paribus, for every 1% depreciation of the Indian rupee vs US dollar the Indian vendors would save $12-53m, which can be used to invest in sales with a lower margin profile.
We assume it is currently possible to achieve cost savings of 40%, which is approximately the mid-point of the range (30-60%) that we have come across in industry commentary. We estimate this would increase to 44-46% (from 40% assumed) if the rupee depreciated by 9-12% year-on-year in FY14e (estimates). This assumes that Indian vendors pass on all the gains from rupee depreciation to clients.
Alternately, the Indian vendors could choose to use the gains from a weak rupee to offer price discounts and gain market share. Our detailed analysis suggests that most Indian vendors could witness 6-8% increases in FY15e USD revenue growth forecasts. Consequently, earnings forecasts could potentially move up 4-11%.
Tata Consultancy Services (TCS)–top beneficiary; will invest to win more large and complex engagements: While all offshore vendors gain from the increased cost competitiveness, we believe TCS will make the best use of the current rupee weakness to win more transformational engagements (involving IMS) and improve its top line, while maintaining operating margins. Our analysis suggests that TCS's USD revenue CAGR over FY14-16e could increase to 24.5% (vs our current estimate of 21.8%). Consequently, it could report an earnings CAGR of 23.8% (vs our current estimate of 18.3%).
Infosys–loss of talent will affect deal