In one more case of stressed companies asking banks for easier loan repayment terms, the corporate debt restructuring cell (CDR) has approved an almost Rs 7,000-crore debt recast proposal for IVRCL. The Hyderabad-based infrastructure firm reported a loss of Rs 716 crore in FY14 on revenues of Rs 4,305 crore. The company has also sought additional funding from banks, sources told FE.
Analysts report that the firms' gross debt increased to Rs 4,000 crore as at the end of March 2014 from Rs 2,830 crore a year ago, while the firm's net working capital increased to Rs 3,100 crore from Rs 2,660 crore over the same time.
They said the firm's contribution to the restructuring package will be a mere Rs 150 crore as promoters' equity; banks are understood to have asked the company to sell assets to pare the debt. As of March 31, 2014, the promoters' stake in the company was just 13.7% with the public shareholding at 86.3%.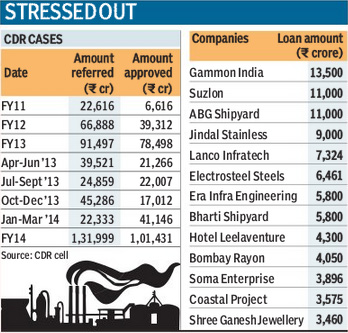 The company has been paying its 20 lenders, led by State Bank of India, at the rate of 13-14% but now will be charged only 11.25%. There will be a two-year moratorium on interest payments with the loans being repaid over eight years.
The company is managed by E Sudhir Reddy in the form of its chairman and managing director.
In a filing to the Bombay Stock Exchange on May 30, 2014, the company had said its board has approved raising up to R300 crore by way of equity or other permissible securities, either on rights basis or other modes.
After IVRCL sold three highway projects it had developed on NH 47 in Tamil Nadu to Tata Group firm TRIL Roads in April last year, there were reports in September that the firm was planning to sell its Chennai seawater desalination plant and Jalandhar-Amritsar road project to trim debt.
The IVRCL recast was referred to the CDR cell in January this year; the January-March period saw referrals of Rs 22,000 crore. However, the CDR cell, a forum of bankers that takes a call on individual debt recast packages, has seen fewer referrals after the Reserve Bank of India (RBI) introduced the norms for joint lenders' forums (JLFs).
The IVRCL scrip closed at Rs 26.50 on Tuesday on the BSE and has outperformed the Sensex with a return of 56% in the last six months, against 21% return