With major states including those ruled by parties outside the ruling alliance raising objections to a host of unworkable provisions in the new Land Acquisition Act, the Modi government has put the Act, which came into force just six months ago, under a comprehensive review.
Although there are minor differences among the states on the amendments needed in the Act or the emphasis given to resolution of any particular issue, their proposals nevertheless reflect a broad political consensus on the need to make the Act more investor-friendly. This would make it easier for the government, which is in a minority in the Rajya Sabha, to carry out the amendments.
Even if the Congress, the proponent of the Act, refuses to support the changes, other major parties outside the government like the AIADMK, with 11 members in the Upper House, and the Samajwadi Party, with 10, could come to the rescue of the government. Congress-ruled states including Maharashtra, Assam and Kerala have also sought major relaxations of the consent and social impact assessment (SIA) clauses.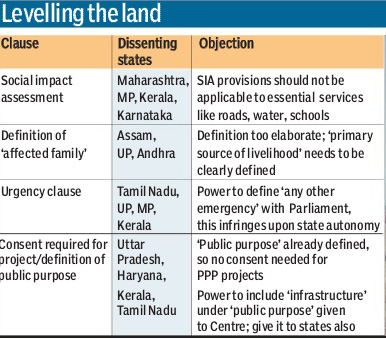 Rural development minister Nitin Gadkari, sources said, has already sent a note to the Prime Minister's Office (PMO), indicating his view that the law be amended to make land acquisition less cumbersome for industry.
The move, which could gather pace in the next few weeks with inter-party dialogues, could primarily result in a major dilution of the restrictive consent clause for public-private partnership (PPP) projects and limit the mandatory SIA to only projects above an investment threshold.
The idea is to try and make the changes in the current session of Parliament.
A broadening of the "urgency clause" under which land can be acquired compulsorily for the purposes of defence/ national security or in the event of natural calamities is likely. However, it remains to be seen if the states' demand that they also be allowed to invoke this clause be met. Currently, only the Centre can decide whether a situation demands use of the urgency clause.
The review could also lead to a narrower definition of affected families eligible for rehabilitation and resettlement — for this, the term "primary source of livelihood" could be revised to reduce its scope, sources added.
These industry-friendly relaxations in the land Act, coupled with easing of labour norms for specific sectors could give a boost to the manufacturing and infrastructure sectors that have also received a lot of