The Moto E is currently our pick for the best low-cost Android around, and it is now being challenged by several Indian manufacturers. The Lava Iris X1 is among the top contenders, with a similar price tag and offering better features on paper. Can it topple the king?
Specs: 4.5-inch IPS touchscreen (854×480 pixels, 217 ppi) | 1.2GHz quad-core Broadcom 23550 processor | 1GB RAM | 4GB internal memory, microSD card up to 32GB | Dual-SIM (SIM + micro SIM) | 8-megapixel rear camera, 2-megapixel front camera, WVGA video recording | 3G (only on regular SIM), Wi-Fi, Bluetooth 4, GPS | 1800mAh battery | Android 4.4 KitKat
Price: Rs 7,999
Design: Imagine the iPhone 4S made with low-cost materials and you have the Lava Iris X1 on your hands. The front and back are completely flat, while the sides have a chrome band going all around. Unlike the Moto E, it uses capacitive touch buttons so you get full use of the screen space and the bezel is used well too. The buttons are responsive, the phone doesn't heat up, and there is nothing to dislike about the Iris X1—it seems like a handset that should be more expensive than what it is.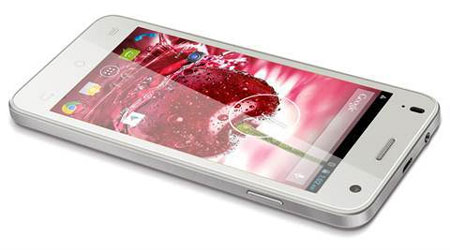 Screen: To its credit, the 4.5-inch screen has decent colour reproduction and viewing angles. But it has a few big problems. First, it does not have Gorilla Glass or any scratch protection, which is not something worth compromising on. Second, the screen has major issues with colour banding—basically, a colour does not smoothly transition between shades, you see clear bands of different shades. Perhaps most damagingly, the screen's response is weak. Often when tapping keys or other things around the edges of the screen, the taps aren't registered. Also, if you tap quickly—like speed typing on a keyboard—the screen misses some input.
Performance: Despite a quad-core processor, the performance of the Iris X1 is inferior to the Moto E's dual-core processor. It often lags or slows down, and quick multi-tasking between several heavy apps caused it to hang twice in a week of usage.
Camera: The camera is perhaps the highlight of the Iris X1—but that is only in the context of its price. It's better than the Moto E in low-light shots and it captures better details during the day. However, it's still slow to focus so you will struggle with candid shots.