India's failing defence of the Indian rupee is doing more harm than good. It's time New Delhi left the plunging currency to market forces and shifted its focus to boosting exports and investment.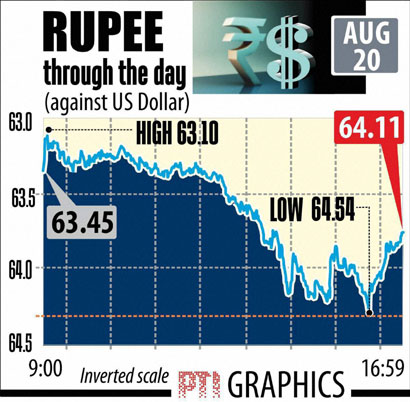 A country that decides to defend its exchange rate has only two options: impose capital controls, or surrender independence over monetary policy. The Indian authorities have tried a bit of both. They have put restrictions on resident individuals and companies looking to invest overseas and in gold. The central bank has also raised short-term interest rates, thereby giving up its ability to use monetary policy to lift GDP growth from its 10-year low.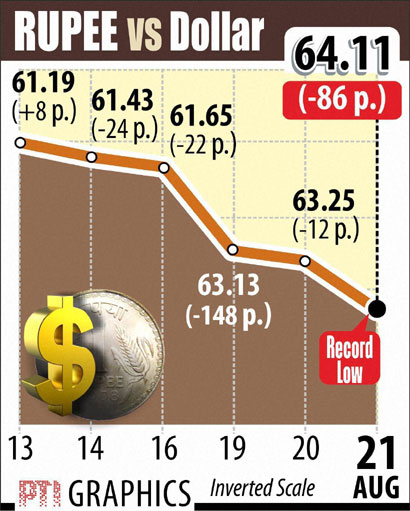 Capital controls on residents make matters worse because foreigners fear that they might be next in line. Their rational response is to rush for the exit before the gates close. Indian stocks plunged 5.7 per cent in two days after the country made it harder for residents to take their money out.
The higher interest rates engineered by the central bank since mid-July have also backfired. With the Indian rupee in free fall, global investors are unlikely to be lured by 10-year government bonds, even though their 8.9 per cent yield is far more attractive than the 2.8 per cent return on comparable U.S. Treasuries. Investors will bite only if they can get a positive return after hedging the currency risk. But strong demand for protection against a Indian rupee collapse means hedging costs are too high for that.
Meanwhile, higher interest rates are hurting banks that are increasingly reliant on short-term money market funding. Rolling over their 3.6 trillion Indian rupees ($58 billion) in market debt at interest rates that are now 3 per centage points higher is bound to squeeze lenders' earnings, which are already shrinking as loan losses mount. Rising yields on government debt will also force banks to write down the value of their bond portfolios. The longer local interest rates remain high, the greater the risk that the currency crisis turns into a banking fiasco.
A better strategy would be to just accept the 15 per cent slide in the Indian rupee since early May. India is getting punished because it has an external funding gap when the U.S. Federal Reserve is getting ready to reduce the glut of excess dollars. The Brazilian real, the South African rand and the Indonesian rupiah are also under pressure,