The Reserve Bank of India has released its final guidelines for new banking licences. These are different and, in many ways, tougher than the draft guidelines issued earlier. The final guidelines are most negative for standalone non-banking finance companies (NBFCs) or NBFCs belonging to a pure financial group that are not part of a corporate group, such as IDFC, Shriram or LIC Housing. Earlier, these were perceived to be the most eligible candidates for new banking licences. RBI has clarified that only widely held non-financial services companies/entities can sponsor an NOFHC (non-operative financial holding company), which, in turn, will float a bank.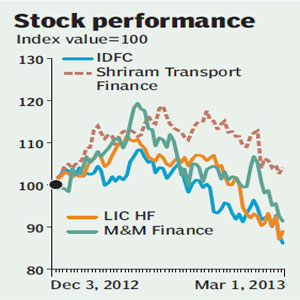 The above NBFCs do not have any widely held non-financial company in the group that can float an NOFHC. The new guidelines are also negative for NBFCs belonging to business groups (MMFS—M&M Financial Services). RBI has made it clear that the financial entities under the NOFHC cannot undertake the business that RBI has permitted banks to do. This means that M&M Finance and others will all have to convert/transfer their businesses to the new bank, should their promoters decide to opt for a banking licence.
The structure that these NBFCs were anticipating is that the NBFCs and the new bank would co-exist in the group, which can no longer happen. According to the current guidelines, L&T Finance, Bajaj Finance and Aditya Birla Nuvo (ABNL) are the most eligible candidates for new licences. RBI has clarified that licences will be given on a very selective basis. We do not expect the RBI to issue more than five licences. We believe the probability of a public sector entity obtaining a banking licence is low.
New guidelines
NOFHC will float a bank: Promoters interested in banking licences have to float an NOFHC. This NOFHC will have to be registered with RBI as an NBFC. The registered NOFHC can apply for a banking licence. It will house the bank and all other financial businesses/subsidiaries of the group Newly defined capital structure comes as a surprise: The RBI has come up with a detailed capital structure for NOFHC, which was not mentioned in earlier drafts. There are two important elements of the capital structure:
The promoter group (individual promoter and his relatives) can own only 10% of the NOFHC. A company promoted by the promoter group that is publicly listed, with more than 51% public shareholding, will have to hold at least